Study shows benefits of teaching languages to younger students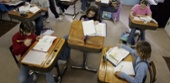 (Larry W. Smith/Getty Images)
Elementary-school students at a dual-language school in California performed on par with Advanced Placement high-school students on Mandarin language assessments, according to a recent Stanford University study. The findings now are driving efforts to introduce foreign-language instruction in younger grades.
KPCC-FM (Los Angeles)
(6/30)
Principal: How educators can help students like school
Educators should adopt a growth mindset and consider how they can reach students who don't like school, rather than just ask if they can teach them, principal Kyle Hoopes writes in this blog post. Hoopes suggests trying innovative teaching practices -- from Genius Hours to differentiated instruction -- to develop students' inner desire to learn.
Connected Principals blog
(6/29)
Technology in the Classroom
What does the future hold for education?
There are five new realities in education, suggests educator and author Will Richardson, who presented on the topic during a session at the International Society for Technology in Education's conference. He asserts that technology provides more choices in learning, learners drive their own learning through online resources and professional development is a personal responsibility.
SmartBrief/SmartBlog on Education
(7/1)
Why many Texas districts are not going back to deep frying
Eight of Texas' largest school districts say they do not plan to serve fried foods or soda despite a recent statewide policy change allowing them to do so. "Despite the reversal, we believe the healthy changes that have been made to our school menus remain in the best interest of our students," said Melissa Martinez, a spokeswoman for El Paso's school district. "It also would be cost prohibitive to retrofit all of our kitchens with deep fryers."
TexasTribune.org (Austin)
(7/1)
Summer's here, but educators never stop learning! Which topic are you most interested in learning about in your self-directed PD this summer?
| | |
| --- | --- |
| Curriculum design | 25.89% |
| Differentiated instruction | 22.33% |
| Teacher leadership | 16.15% |
| Children living in poverty | 10.93% |
| Classroom management | 8.31% |
| Common Core and other state standards | 8.31% |
| Lesson planning | 8.08% |
The Department of Education's new "A Set of Family Rights" outlines three expectations every parent should be able to demand for their child's education. Which one do you feel is most important?
| | |
| --- | --- |
| | Free, quality preschool |
| | |
| --- | --- |
| | High, challenging standards and engaging teaching and leadership in a safe, supportive, well-resourced school |
| | |
| --- | --- |
| | An affordable, quality college degree |
Parental encouragement, enthusiasm can lead girls to STEM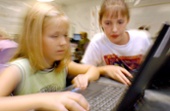 (Justin Sullivan/Getty Images)
Parental support is critical for girls developing an interest in science, technology, engineering and math, panelists recently said at the 2015 U.S. News STEM Solutions Conference in San Diego. They said parents who model positive attitudes toward STEM fields can spark curiosity and encourage girls to pursue STEM careers.
U.S. News & World Report
(6/29)
Promoting educational equity
"I considered that the purpose of education is to create a better -- more tolerant and compassionate -- populace," writes ASCD Inservice blogger Shekema Silveri. In a recent Inservice post, Silveri shares a list of three things that all educators can do to facilitate the process of realizing educational equity within all classrooms and schools. Read more.
Let's talk whole child
ASCD's newest Policy Priorities issue brief, "A Lexicon for Educating the Whole Child (and Preparing the Whole Adult)," examines education terms and philosophies -- including character education, school climate, social-emotional learning, and 21st century skills -- to provide clarity and enable thoughtful conversations on these key issues. Read the issue.
| | |
| --- | --- |
| | The mystery of life is not a problem to be solved; it is a reality to be experienced." |
Please contact one of our specialists for advertising opportunities, editorial inquiries, job placements, or any other questions.