China seeks to scale back English-language curriculum in schools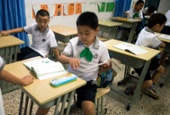 (Johannes Eisele/AFP/Getty Images)
Schools in China may be scaling back their emphasis on teaching English, according to language training company EF Education First. However, while public entities are dialing back their English-language lessons, private English-learning centres have increased in popularity.
CNBC
(02 Nov.)
How letting students struggle through maths problems can boost learning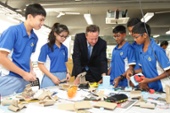 (Suhaimi Abdullah/Getty Images)
Allowing students to make mistakes as they work through maths problems can lead them to a deeper understanding of the concepts being taught, not just solving the problem, asserts Manu Kapur, head of the Learning Sciences Lab in Singapore. This article explores the productive failure approach and why Kapur says it is an effective learning method.
Quartz
(29 Oct.)
Other News
Ready to Transform Education? Virtual Session Nov 12.

Designed to develop leaders in American preK-12 education, the Harvard Ed.L.D. is a three-year, fully funded doctoral program at the Harvard Graduate School of Education. Join our online info session, Thursday, Nov 12, and talk directly with current Ed.L.D. students to learn more about this innovative program. Sign Up Today
England to launch National Teaching Service
England's education secretary, Nicky Morgan, has announced plans to launch the National Teaching Service. The programme could recruit about 1,500 top teachers to work in struggling schools. This announcement was part of a package of measures to improve schools, which also included changes to the student assessment system.
BBC
(02 Nov.)
ECIS PreConference Impactful Relevant & Applicable

"From multilingual IB workshops to mindfulness workshops to sessions on how to employ neurobiology to enhance your skills as a teacher, ECIS Educators' Conference will challenge your thinking and empower you as a teacher and learner " Kevin J Ruth - ECIS Executive Director
ECIS/ASL EduLeader micro-credential
A new Teacher-Leader micro-credential, the ECIS/ASL EduLeader Certificate will be launched at our ECIS November Conference in Barcelona. "Symposium 1 Understanding Power" takes place on 18 and 19 November 2015. Attend one symposium or attend all four (taking place between November 2015 and June 2016) to receive credit. For more information, visit this link EduLeader or register here.
ECIS Educators Conference, Barcelona, 18-21 November 2015
The ECIS Annual Educators Conference is a fantastic professional development opportunity! Through the theme of this year's conference, Designing on Purpose, we hope to achieve a shift in focus to intention, impact and implementation, so that participants can return to their schools and begin to make a change straight away, as a result of the exchange of ideas at the conference. More information and registration here.
| | |
| --- | --- |
| | Change has to come for life to struggle forward." |
Founded in 1965, ECIS is a global membership organisation that provides professional development opportunities and consultancy services to its members who are comprised of international schools, individuals and educational organisations.
Please contact one of our specialists for advertising opportunities, editorial inquiries, job placements, or any other questions.