Flavor SIMPLIFIED

Satisfying every appetite is no simple task. That's where we come in. Campbell's® Classic, Signature and Reserve soups make it easy to serve amazing flavor in every bowl — with timeless favorites, on-trend options and uniquely indulgent creations. Explore more at CampbellsFoodservice.com
A Higher Standard of Farm to Table with Chef Stephanie Izard

A 2013 James Beard Award and Season 4 Top Chef winner, Chef Stephanie Izard is known for her exceptional farm-to-table ingredients. That's why she exclusively uses PHILADELPHIA Cream Cheese at her restaurant, Little Goat Diner. Check out Chef Izard's visit to a farm and a PHILADELPHIA Creamery. Watch her experience and SAVE UP TO $150!
On the Plate: An original look at trends in restaurants and foodservice from SmartBrief
How cutting food waste can boost the top and bottom lines

Cutting food waste not only saves restaurants money but it can also create new sources of revenue, said Laura Abshire, director of sustainability policy and government affairs for the National Restaurant Association. Her advice to eateries looking to cut food waste: start with a waste assessment, track and adjust inventories and explore options including composting and food donation.
SmartBrief/SmartBlog on Food & Beverage
(12/17)
Vintage spirits lend a taste of the past
As the retro cocktail movement gains steam at bars in Vancouver, British Columbia, bartenders are beginning to experiment with vintage cocktails, which are made with spirits that were produced between the late 1800s and the 1970s. "Once in the bottle, spirits don't change a lot, but the way that they were produced back in the day is a whole lot different from how they are now. What's more, a lot of the brands that were used in classic cocktails just aren't around any longer," writes Shaun Layton, bar manager at Vancouver's L'Abattoir.
Scouting magazine
(12/16)
Chefs head to Denver as restaurant scene booms

Denver is the second-fastest growing city in the country, and the Mile High City's restaurant scene is in the midst of its own growth spurt. Top chefs including Keegan Gerhard are passing up New York City and Chicago to land in Denver, where one recent month saw 40 new eateries open.
National Public Radio
(12/16)
How restaurants give back at the holidays
Sticky's Finger Joint in New York City will donate 10% of the proceeds from sales of its gourmet chicken finger latkes to a charity that feeds the hungry. Some 90% of U.S. restaurants give back to their communities, according to the NRA, and eateries and chains around the country including Pinkberry, Chipotle and Tim Hortons have kicked off holiday fundraising efforts.
Bustle
(12/16)
Other News
Local & Sustainable Spotlight
The downside to foraging
Foraging may be all the rage among top chefs and dedicated food enthusiasts, but it's not always practical -- or legal. Noma in Copenhagen, famous for its use of locally-sourced ingredients, puts new chefs through a rigorous training and relies on an expert forager for particularly tricky items.
Modern Farmer
(12/15)
Mushroom Meatloaf with Mushroom Gravy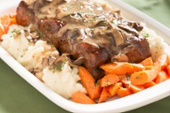 (CIA)
With CIA Chef Bill Briwa as your guide, explore blendability -- the endless culinary potential in a blend of mushrooms and ground meat. Watch Chef Briwa use the blendability technique in this demonstration of Mushroom Meatloaf with Mushroom Gravy and many more videos!
Create your career success story
Did you know that there are so many diverse and amazing culinary career paths you can choose in the food and beverage industry? Paths that will take you places you've never even imagined. By adding an AWBP credential from the CIA to your resume, you'll set yourself apart from the competition and open many career opportunities. Get your free copy of the Top Trending Food & Beverage Careers guide and get started on your new career path! Learn more and get your free guide today!
| | |
| --- | --- |
| | I dwell in Possibility." |
Please contact one of our specialists for advertising opportunities, editorial inquiries, job placements, or any other questions.