The year in veterinary medicine
2013 was marked by stunning advances in veterinary medical care as well as the emergence of serious threats to animal and public health.

Animal illnesses and deaths linked to jerky treats made in China continued to stump researchers, and an FDA alert to veterinarians and the public intensified the scrutiny of the issue. Another mystery that has yet to be worked out involves a possible emerging disease in dogs linked to but likely not caused by circovirus alone. Emerging zoonoses such as Middle East respiratory syndrome coronavirus and H7N9 avian influenza were among important One Health topics, as was speculation about the next zoonotic pandemic and how to stop it.

Researchers continued to advance our understanding of animal diseases, including feline infectious peritonitis, and novel treatments, such as for canine osteosarcoma. Strides are being made in clinical care with a new route for administering feline vaccinations and a new tool for sterilizing dogs expected to be available by the end of the year.

And as always, animals kept us smiling this year. Along with the rest of the Internet, Animal Health SmartBrief readers couldn't resist this dog with four prosthetic limbs, beloved hero Kabang, this adorable zonkey and this cool cat. A dog mourning a beaver friend tugged at heartstrings, along with many other stories of connection among animals and between humans and their animal friends.
Q-and-A with Dr. Clark K. Fobian
Veterinarian Clark K. Fobian, president of the AVMA, discusses declines in veterinary visits and how veterinarians can make the case for owners to ensure their pets get adequate preventive care. "Too often, we treat animals with serious health conditions -- such as heart disease and diabetes -- that could have been avoided through regular veterinary checkups," he says. Dr. Fobian also discusses efforts to address workforce and economic concerns in the field of veterinary medicine and some of the more worrisome animal health topics in the news this year. Read the interview.
Did you know that atopic or allergic dermatitis is the #1 Pet Insurance Claim*?
Give relief to your itchy patients using the ALLERCEPT® Allergy Assessment and Treatment Program. It's designed for every clinic, everywhere! That's YOU, whether you're a specialist or not! Learn more.
*Source, Veterinary Pet Insurance, 2013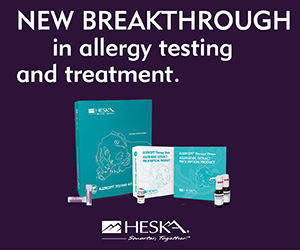 Product announcements appearing in SmartBrief are paid advertisements and do not reflect actual AVMA endorsements. The news reported in SmartBrief does not necessarily reflect the official position of AVMA.
Nobody can go back and start a new beginning, but anyone can start today and make a new ending.
Three grand essentials to happiness in this life are something to do, something to love, and something to hope for.
There is only one boss: the customer. And he can fire everybody in the company, from the chairman on down, simply by spending his money somewhere else.
I'm slowly becoming a convert to the principle that you can't motivate people to do things, you can only demotivate them. The primary job of the manager is not to empower but to remove obstacles.
Besides the noble art of getting things done, there is the noble art of leaving things undone. The wisdom of life consists in the elimination of non-essentials.
I don't know the key to success, but the key to failure is trying to please everybody.
The greatest weapon against stress is our ability to choose one thought over another.
If you want to live a happy life, tie it to a goal. Not to people or things.
I've learned that people will forget what you said, people will forget what you did, but people will never forget how you made them feel.
Our attitudes control our lives. Attitudes are a secret power working twenty-four hours a day, for good or bad. It is of paramount importance that we know how to harness and control this great force.
| | |
| --- | --- |
| | NEW BREAKTHROUGH! Heska's Allercept testing now offers the highest sensitivity available in the industry, detecting less than 10 picograms of allergen-specific IgE. With a new universal panel and easy to interpret results, you can easily leap ahead in allergy testing and treatment today. Learn More. |
Please contact one of our specialists for advertising opportunities, editorial inquiries, job placements, or any other questions.