Is a broader definition of literacy necessary for ELL students?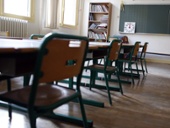 (Thomas Samson/AFP/Getty Images)
In many cases, English-language-learning students are trying to grasp English while they are learning academic language, asserts Edynn Sato, a principal research scientist in the Center for NextGen Learning & Assessment at Pearson's Research & Innovation Network. In this commentary, Sato offers several tips to help teachers address the needs of ELL students, including giving them "the opportunity to engage with and understand both content and language".
Language Magazine online
(18 Nov.)
Study: Students' maths performance suffers if parents expect too much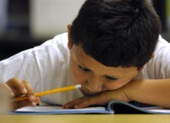 (Tim Boyle/Getty Images)
Children may do worse in maths when their parents' expectation of success exceeds the student's ability, say researchers at the University of Reading in England. School leaders and teachers should help parents set realistic goals for their children to improve academic performance, the study suggests.
United Press International
(17 Nov.)
Women face barriers to teaching in Africa
Teaching remains a primarily male-dominated profession in Africa. In West Africa, for example, women make up about 20% or less of the primary-school educators in some countries. This article reveals several potential barriers, including bias and lack of training opportunities for females.
The Atlantic online
(19 Nov.)
Time spent in day care tied to children's academic performance, study finds
Canadian researchers found low-income children who attended day care for more than 35 hours per week and started by 5 months of age showed better maths, reading and writing scores at age 12, compared with those who never attended day care. The findings in Pediatrics, based on data from more than 1,000 families with births in Quebec in 1997 and 1998, revealed children who attended day care after 18 months had better scores in maths and reading but not writing.
Reuters
(23 Nov.)
Thank you for attending our November conference
Thank you to those of you who came to join us in November for our annual conference; we are now working on forthcoming events and you will be able to find more information here as it becomes available.
ECIS Flourishing Schools TASIS The American School in England
This two-day conference will expose delegates to both the skills and habits of flourishing as well as providing colleagues with the tools to develop a flourishing culture within the workplace. Introductory and in-depth workshops will be offered in the areas of: resilience, mindfulness, grit, character strength and positive relationships. For more information, visit here and to register, please visit this link.
| | |
| --- | --- |
| | It's hard to lead a cavalry charge if you think you look funny on a horse." |
Founded in 1965, ECIS is a global membership organisation that provides professional development opportunities and consultancy services to its members who are comprised of international schools, individuals and educational organisations.
Please contact one of our specialists for advertising opportunities, editorial inquiries, job placements, or any other questions.