Design your Education, Master your Opportunities

Earn your Master of Arts in Educational Technology and Online Learning or Master of Arts in Educational Leadership
• Flexible ways to earn college credit
• All courses are offered exclusively online
• Earn credit for proving what you already know
• Bachelor's to Master's programs are available
Learn More
Tips for using UDL during instructional design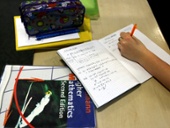 (Jeff J Mitchell/Getty Images)
Universal Design for Learning can help educators add personalized learning to a lesson during the instructional design phase, writes David Gordon with the Center for Applied Special Technology, which created the UDL framework. In this commentary, he defines UDL and offers tips for using it in the classroom.
eSchool News (free registration)
(5/19)
Other News
Inspire the greatest comeback story in America
The Baltimore Police Department is looking for change agents, problem-solvers, and community advocates to join a new era in humanistic policing. If you think the best way to make a difference is from the inside, we're hiring. Officer salaries start at $60,000.
How colleges can create device-agnostic classrooms
To better facilitate the bring-your-own-device culture at colleges and universities, classrooms must include so-called device-agnostic tools to accommodate the myriad devices students bring. This article highlights examples of such applications and offers tips for using them to develop lessons that are accessible to all students.
eCampus News (free registration)
(5/19)
Other News
Remind Yourself Why You Love AV at InfoComm 2015

Be 'wowed' by the coolest technology out there. Recharge your creative batteries. Get excited about our industry and remind yourself why you love AV. InfoComm 2015 is the largest event for professional AV in the world, with over 980 exhibitors and more than 38,000 attendees from 110+ countries. This is your once-a-year opportunity to see the latest audiovisual technology, learn the skills that will advance your career, and grow your professional network. Learn More and Register Now!
Focus on Communication-based Language Teaching
As learning models fluctuate, language teachers are challenged with how to focus on interpersonal communication. Partnering students for spontaneous speaking is difficult. The live interaction & feedback needed is missing. A set of synchronous language teaching tools can help. Learn more.
Facebook, others seek to expand access to STEM in Calif. district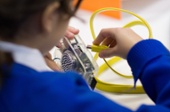 (LEON NEAL/Getty Images)
Facebook and other groups are working with a school district in California's Silicon Valley to maintain its "Makerspace Collaborative." The initiative is aimed at expanding students' opportunities to pursue careers in STEM fields.
American City Business Journals/San Jose, Calif.
(5/19)
Empowering Teachers to Empower Students
For students to master challenging content, become better problem-solvers, and effectively communicate and collaborate, teachers need to be prepared with strategies to support them. Download this SmartFocus to learn what you should look for in professional learning to equip teachers and benefit students.
Seeing how other schools and districts are getting creative with tech initiatives can be a great inspiration and knowledge source. What kinds of information do you want to see?
| | |
| --- | --- |
| | Funding. Tell me where they got the money for the program. |
| | |
| --- | --- |
| | Buy-in. How did they sell it to their stakeholders? |
| | |
| --- | --- |
| | The plan. How they did it, from idea to deployment. |
Marketing and sales alignment? Here are our proven strategies.
Discover the keys to marketing and sales alignment, and learn how it can lead to closing more deals, driving greater revenue, and building long-term customer relationships — at the individual and account level. Register for the webinar.
Nev. CTE students partner with businesses, Google to launch app
Students from a Nevada career and technical academy are working with local businesses and Google to create an interactive smartphone maps application for a 1.6-million-square-foot shopping center. Students must contact each store to collect information for the app and have been meeting with store managers to talk about entrepreneurship and business management.
Las Vegas Review-Journal
(5/19)
| | |
| --- | --- |
| | Be careful what you set your heart upon, for it will surely be yours." |
Please contact one of our specialists for advertising opportunities, editorial inquiries, job placements, or any other questions.