Design your Education, Master your Opportunities

Earn your Master of Arts in Educational Technology and Online Learning or Master of Arts in Educational Leadership
• Flexible ways to earn college credit
• All courses are offered exclusively online
• Earn credit for proving what you already know
• Bachelor's to Master's programs are available
Learn More
Tips for using UDL during instructional design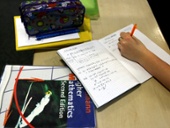 (Jeff J Mitchell/Getty Images)
Universal Design for Learning can help educators add personalized learning to a lesson during the instructional design phase, writes David Gordon with the Center for Applied Special Technology, which created the UDL framework. In this commentary, he defines UDL and offers tips for using it in the classroom.
eSchool News (free registration)
(5/19)
Other News
The Proven Learning Benefits of Purposeful Play
As many schools head back to hybrid and traditional classroom settings, teachers and faculty members should look for new and innovative ways to improve learning outcomes for their students and make engagement in learning a priority. Here's how incorporating purposeful play gives teachers the necessary tools to improve learning outcomes. Read the SmartFocus
How colleges can create device-agnostic classrooms
To better facilitate the bring-your-own-device culture at colleges and universities, classrooms must include so-called device-agnostic tools to accommodate the myriad devices students bring. This article highlights examples of such applications and offers tips for using them to develop lessons that are accessible to all students.
eCampus News (free registration)
(5/19)
Other News
Remind Yourself Why You Love AV at InfoComm 2015

Be 'wowed' by the coolest technology out there. Recharge your creative batteries. Get excited about our industry and remind yourself why you love AV. InfoComm 2015 is the largest event for professional AV in the world, with over 980 exhibitors and more than 38,000 attendees from 110+ countries. This is your once-a-year opportunity to see the latest audiovisual technology, learn the skills that will advance your career, and grow your professional network. Learn More and Register Now!
SmartBrief Education STEM Pathways Summit
Join us on October 28 for our annual SmartBrief Education STEM Pathways Summit when we explore the intersection of STEM and social-emotional learning. Don't miss this opportunity to get fresh ideas, hear about new programs and talk with your peers in STEM education. Register today.
Seeing how other schools and districts are getting creative with tech initiatives can be a great inspiration and knowledge source. What kinds of information do you want to see?
| | |
| --- | --- |
| | Funding. Tell me where they got the money for the program. |
| | |
| --- | --- |
| | Buy-in. How did they sell it to their stakeholders? |
| | |
| --- | --- |
| | The plan. How they did it, from idea to deployment. |
Nev. CTE students partner with businesses, Google to launch app
Students from a Nevada career and technical academy are working with local businesses and Google to create an interactive smartphone maps application for a 1.6-million-square-foot shopping center. Students must contact each store to collect information for the app and have been meeting with store managers to talk about entrepreneurship and business management.
Las Vegas Review-Journal
(5/19)
| | |
| --- | --- |
| | Be careful what you set your heart upon, for it will surely be yours." |
Please contact one of our specialists for advertising opportunities, editorial inquiries, job placements, or any other questions.