Want to Lead in Education? Join Us. The Harvard Ed.L.D

Designed to develop leaders in American preK-12 education, the Harvard Ed.L.D. is a three-year, fully funded doctoral program at the Harvard Graduate School of Education. The innovative curriculum combines courses in education, business, and public policy and includes a paid residency. Learn more about Ed.L.D.
How school leaders can work with teachers to improve PD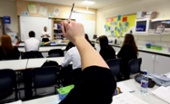 (Jeff J Mitchell/Getty Images)
School leaders and teachers must work together to find the best professional-development programmes and tools, writes Richard Bruford, vice principal of Suzhou Singapore International School in China. Leaders, Bruford advises, need teacher input to determine the best programmes, then give teachers the time they need to develop their skills afterward.
Connected Principals blog
(09 Oct.)
Online at Harvard: Grounded In Practice

Online professional development at the Harvard Graduate School of Education is designed to improve student performance and promote deeper understanding. The programs engage teams of teachers and administrators in job-embedded online PD using a coached model with coordinated support. Learn More Today
ECIS/ASL EduLeader micro-credential
A new Teacher-Leader micro-credential, the ECIS/ASL EduLeader Certificate will be launched at our ECIS November Conference in Barcelona. "Symposium 1 Understanding Power" takes place on 18 and 19 November 2015. Attend one symposium or attend all four (taking place between November 2015 and June 2016) to receive credit. For more information, visit this link EduLeader or register here.
ECIS Educators Conference, Barcelona, 18-21 November 2015
The ECIS Annual Educators Conference is a fantastic professional development opportunity! Through the theme of this year's conference, Designing on Purpose, we hope to achieve a shift in focus to intention, impact and implementation, so that participants can return to their schools and begin to make a change straight away, as a result of the exchange of ideas at the conference. More information and registration here.
| | |
| --- | --- |
| | We must be free not because we claim freedom, but because we practise it." |
Founded in 1965, ECIS is a global membership organisation that provides professional development opportunities and consultancy services to its members who are comprised of international schools, individuals and educational organisations.
Please contact one of our specialists for advertising opportunities, editorial inquiries, job placements, or any other questions.