Breakthrough is achieved with first mind-controlled prosthetic leg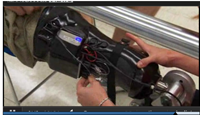 Credit: NBC News
Scientists at the Rehabilitation Institute of Chicago have achieved a major milestone with their demonstration of a prosthetic knee and ankle that are controlled by nerves in the upper leg of the wearer, allowing the amputee "to seamlessly transition between walking along level ground and going up and down stairs and slopes," according to biomedical engineer Levi Hargrove at the institute. Robotic legs currently available combine computers with mechanical sensors that allow for improved gait, but don't do well in situations such as stair-climbing. The new mind-controlled leg prosthesis has software and electrodes that translate small electrical signals in the leg muscles into more intuitive natural movements.

NBC News
(9/25),

Los Angeles Times (tiered subscription model)
(9/25)

Colo. woman walks again with upgraded exoskeleton
Amanda Boxtel of Aspen, Colo., paralyzed in a skiing accident, is now walking daily, albeit slowly, with the latest version of the Ekso Bionics exoskeleton, which permits her to employ a more natural gait and bear much of her own weight for the first time in more than 20 years. The exoskeleton, which employs a computer, battery packs, motors and motion sensors, also lowers her edema and neuropathic pain.
ScientificAmerican.com/Streams of Consciousness blog
(9/24)
Legislative and Regulatory
See Rep. Tammy Duckworth's speech about O&P advocacy and innovation from the O&P World Congress.
Japanese robotics firm invests in ARGO Medical
ARGO Medical Technologies, maker of the ReWalk system designed to allow patients with lower-limb disabilities to walk, has received an investment from Japanese robotics firm Yaskawa Electric. Yaskawa also agreed to distribute ReWalk in Asia. The device is available in two configurations -- one tailored for personal use by patients and the other for rehabilitation facilities.
MedCityNews.com
(9/25)
Breaking news from AOPA
The 2013 O&P World Congress was an overwhelming success. Check out the video presentation on Congresswoman Tammy Duckworth's story of recovery and political advocacy. Along with more World Congress highlights, we congratulate the Fabrication Contest winners! Strike while the iron is hot and take action on the Medicare O&P Improvements Act -- send a letter to your representatives today! The FDA releases a final rule regarding unique device identifiers and the DME MAC announces a pre-payment review for L5981. AOPA's final Coding & Billing Seminar of 2013 is coming up in Vegas -- stay on top of the game and don't miss it! All of this in today's AOPA Breaking News.
Upcoming events
Oct. 9: What's the Word: A Healthcare Reform Update & What You Can Expect (Telephone audio conference)
Register online
Oct. 22-23: Mastering Medicare: Advanced Coding and Billing Techniques, Las Vegas
Learn more or register online
Nov. 13: Advocacy: A Potent Weapon for Change (Telephone audio conference)
Register online
| | |
| --- | --- |
| | It takes as much energy to wish as it does to plan." |
Please contact one of our specialists for advertising opportunities, editorial inquiries, job placements, or any other questions.