Should companies recycle their old CEOs?
J.C. Penney and Procter & Gamble are turning to tried-and-tested former chief executives to lead them out of crisis. That strategy can work, notes business historian Nancy Koehn, because ex-CEOs typically know the company culture, what works and what needs changing. "When the company needs someone who can fix very specific things quickly and effectively, it can work," she says.
CNNMoney/Fortune
(6/5)
Why Houzz's CEO banned middle managers
Middle management is the bane of a creative and responsive workplace, argues Adi Tatarko, CEO of Houzz. If a company isn't going to have middle managers, however, it has to focus on hiring self-motivated grownups who can thrive without constant oversight. "People can be way more creative when they don't have middle management," she says.
The New York Times (tiered subscription model)
(6/6)
Does Costco have what it takes to beat Amazon?
Amazon is expanding in the grocery business, which could create a headache for CEO Jeff Bezos' onetime mentor, Costco Wholesale CEO Jim Sinegal. Executives at Costco say they aren't overly worried but admit they'll be watching Amazon's efforts. "We view Amazon as one of our primary competitors in almost every category," said Paul Latham, Costco's vice president for membership, marketing and services. "We all believe we are going to have to adapt in some form."
Bloomberg Businessweek
(6/6)
Innovation and Creativity
6 ways DARPA spurs innovation
The Defense Advanced Research Projects Agency has arguably done more than any other government agency to spur American innovation, writes Brady McCartney. It has succeeded because it's been blessed with innovation-focused leaders and steady funding while focusing on reducing big problems to smaller, more manageable projects.
TriplePundit.com
(6/7)
How to innovate on a shoestring
Companies don't need huge R&D divisions to innovate, writes Michael Voellinger. All it takes is a small group of employees with a mandate to think creatively about the problems they face. "Innovation isn't all about an enormous budget or a room full of hackers. It's about the growing price tag for not experimenting -- a risk no one can afford," Voellinger writes.
InfoWorld/Smart Leader blog
(6/6)
Can Coke get Myanmar hooked on the real thing?
After a 60-year absence, Coca-Cola is making inroads into Myanmar with a marketing strategy first tested in 1886, the year Coke was born. Myanmar missed out on all the classic Coke advertising campaigns, so like their forebears in Atlanta, marketers are focusing on simply explaining what the beverage tastes like. They're also giving away free samples, partly to show off the taste and partly to remind people that Coke is best enjoyed over ice, rather than at room temperature.
National Public Radio/Planet Money blog
(6/7)
Engage. Innovate. Discuss.
Don't be afraid to tell people they're messing up
Bosses shouldn't avoid giving negative feedback for fear of hurting feelings, writes Jane Perdue. After all, employees will feel far worse if they're fired due to problems that could have been fixed. "If you supervise people, speaking to them candidly and with care about their job-performance deficiencies is a must-have skill," Perdue writes.
SmartBrief/SmartBlog on Leadership
(6/6)
U.S.-Canada relations border on the absurd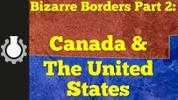 YouTube/CGPGrey
The border between the U.S. and Canada may look like a straight line, but it's actually a 5,500-mile zig-zag defined by a narrow "no touching zone" in which no trees are permitted to grow. Along the way, the border jumps back and forth, creating situations including a Canadian lighthouse that America insists doesn't exist and an American enclave whose young residents must cross the international border every day to get to school.
C.G.P. Grey blog
(6/5)
| | |
| --- | --- |
| | I like hearing that people don't like to be micromanaged ... When someone says, 'I want to own something. I want you to trust me,' I love that." |
Please contact one of our specialists for advertising opportunities, editorial inquiries, job placements, or any other questions.