How schools should balance Internet access, security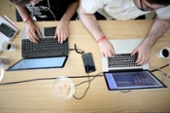 (Joe Raedle/Getty Images)
Schools nationwide are grappling with how best to provide Internet access to students and staff and ensure their safety while online. In this commentary, Mike Ribble, director of technology for Manhattan-Ogden Schools in Kansas, shares four steps to help schools strike that balance, including sharing information among teachers, administrators and other stakeholders.
T.H.E. Journal
(11/12)
Device aims to boost safety in event of lockdown
A door-barricading device aims to provide schools with an extra layer of safety in the event of lockdown. The Active Crisis Tool, designed to withstand high-velocity impact, is installed at the bottom of a door, inside the classroom, and activated with a foot stomp. Videos of the device in use are available for viewing on the company's web site.
Interactive whiteboard courses help foster student participation
Educators using Learning Upgrade can now access a new set of courses designed to foster whole-class participation. Called Teacher Upgrade, the lessons are delivered to an interactive whiteboard and students work through problems by pressing a button or using a pen or finger. Teachers can launch the new lessons from the "Students" or "Courses" tab on their dashboard.
Other News
Click
here
to learn more about Featured Content
| | |
| --- | --- |
| | When you see a good person, think of becoming like him. When you see someone not so good, reflect on your own weak points." |
Please contact one of our specialists for advertising opportunities, editorial inquiries, job placements, or any other questions.