Your feedback is important to us. Click here to email us your feedback.
Broadgate Private Equity SmartBrief
April 25, 2012
In This Issue
Former CalPERS chief charged by SEC
Federico Buenrostro, the top official at CalPERS from 2002 to 2008, has been indicted by the SEC on charges of steering contracts to clients represented by his friend Alfred Villalobos. Both are accused of trying to defraud Apollo Global Management. The New York Times (tiered subscription model)/DealBook blog (4/23)

Weekly Round-Up
Weekly Summary
Two former CalPERS executives, including the former CEO, were charged with fraud by the SEC. Federico Buenrostro, the top official of the country's largest public-pension fund from 2002 until 2008, was accused of illegally directing private-equity contracts to his friend Alfred Villalobos, also a former CalPERS official.

The government watchdog alleges the two defrauded private-equity firm Apollo Global Management by fabricating CalPERS documents stating the pension approved of payments to Villalobos as a middleman between the retirement system and New York private-equity firm. These charges continue the "pay-to-play" scandal that has rocked the private-equity space for the past few years.

Be sure to follow us on Twitter, @Broadgate, where we cover private equity, venture capital and other aspects of the economy.
Transitions
Advent International has added two independent regional advisers in Norway: Birger Nergaard and Gunnar Rydning. Nergaard established Verdane Capital, formerly Four Seasons Ventures, in 1985, and was joined by Rydning in 1986.

Argonne Capital Group has made two hires: Layton Grisette as principal and Bill Weimar as vice president. Grisette and Weimar joined the firm from the Atlanta private-equity firm Arcapita.

Arle Capital Partners has expanded its investment team with two investment managers. Roumyana Boshnakova joins from 3i, and Senka Jeremic joins from Bank of America Merrill Lynch.

Mark McComiskey, co-head of the buyout group at First Reserve, will leave at the end of April. The move follows last week's promotion of buyout co-head Alex Krueger to president.

Doug Henderson has joined Oak Hill Advisors as partner. Based in London, Henderson will lead the firm's European performing credit business.
Trends
Carlyle could buy majority stake of Sunoco's Philadelphia refinery
Carlyle has begun discussions to pay cash into a joint venture with Sunoco that would allow the private-equity firm to oversee day-to-day operations of Sunoco's Philadelphia refinery. Blackstone and TPG Capital have also made refinery deals in the past two years. Bloomberg Businessweek (4/24)
Blackstone reports Q1 numbers
Blackstone said profits were down 24% in the first quarter as performance fees were hurt by slower gains in the value of the firm's holdings. Economic net income was 39 cents a share, missing the 40 cents a share expected by analysts. Bloomberg (4/19)
Video
The role of private equity in emerging markets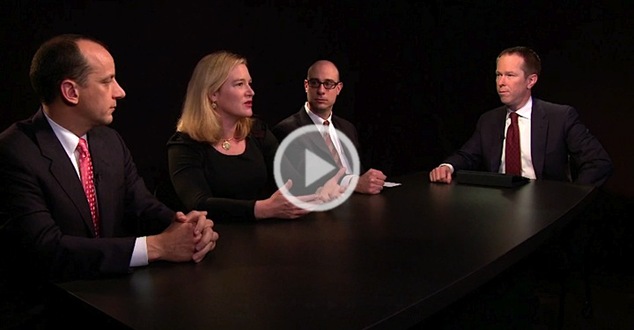 Privcap sits down with industry experts to examine how institutional investors are assessing private-equity opportunities in emerging markets. Privcap (free registration required)
Deals
CVC gets AlixPartners
AlixPartners, the consultancy known for its restructuring work, will be acquired by CVC Capital Partners as part of a recapitalization. The sale is another change in ownership for AlixPartners; in 2006, private-equity firm Hellman & Friedman acquired a majority stake in AlixPartners. The New York Times (tiered subscription model)/DealBook blog (4/24)
Thomson Reuters sells health care business
As a part of Thomson Reuters' plan to shed noncore businesses to concentrate on faster growth areas, the company is selling its health care business to private-equity firm Veritas Capital for $1.25 billion in cash. Reuters (4/23)
KKR property buys Chicago mall
Private-equity managers are targeting property investments as the world's top buyout firms seek opportunities beyond corporate takeovers. Most recently, KKR bought a regional mall near Chicago for $196 million. The purchase was the first U.S. acquisition by KKR's new real estate division. Bloomberg Businessweek (4/19)
Sovereign Wealth Funds
Qatar fund tops $100 billion
The assets under management by the sovereign-wealth fund of Qatar have exceeded $100 billion, said a Qatar Investment Authority board member. The fund's exact value was not specified. Economic Times (4/22)
Fundraising
Nordic Capital seeks management fee
Nordic Capital is offering a 1.5% management fee for a buyout fund that hopes to raise $5.3 billion and has a hard cap of $6 billion. The fee for Nordic Capital Fund VIII is the same as for the prior fund, Fund VII, which raised $5.7 billion in 2008. Bloomberg Businessweek (4/23)
SmartQuote

Opportunity is missed by most people because it is dressed in overalls and looks like work."
--Thomas Edison,
American inventor
Email: isvenson@broadgate.com
Mailing Address: SmartBrief, Inc.®, 555 11th ST NW, Suite 600, Washington, DC 20004
Legal and Privacy information at http://www.smartbrief.com/legal.jsp
Unsubscribe