Suntec Singapore International Convention and Exhibition Centre
Singapore
Hosted with CFA Singapore
New eurozone optimism buoys Asian shares
Good news emerging from the eurozone on further aid for Greece helped boost stocks across most of Asia. The Nikkei rose 0.37% to 9,423.30, the Kospi was up 0.87% to 1,925.20 and the ASX added 0.74% to 4,456.80 while the Hang Seng edged down 0.08% to 21,844.03. In mainland China, however, the Shanghai Composite fell 1.30% to a three-year low of 1,991.17 as investor doubts mounted over the long-term growth outlook.
Bloomberg Businessweek
(11/27)
Capital Markets & Financial Products
Investors searching for safe havens might turn to South Korea's won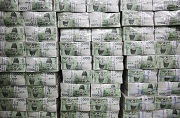 Reuters
With demand for strong currencies exceeding supply and an emerging economic focus on Asia, South Korea's won might soon emerge as a safe haven, a director at the Korea Center for International Finance predicts. "If the won becomes recognized as one of the safe-haven currencies, it would produce positive effects such as reducing fluctuations in the won-dollar foreign exchange rate and foreign capital flows to and from the local market. On the other hand, it could impose a burden on Korean exporters' competitiveness," the director said.
MK.co.kr (South Korea)
(11/27)
Please contact one of our specialists for advertising opportunities, editorial inquiries, job placements, or any other questions.