VIP Corner: Video Insights Powered by Big Think
Stop to think before taking action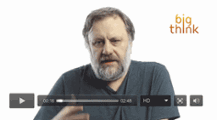 Big Think
People are often eager to take action, but less willing and trained in the art of thinking through what they're assuming in any given situation, says philosopher Slavoj ?i?ek in this Big Think video. " 'Let's do something.' I always discern in this a more ominous injunction. Do it and don't think too much. Today, we need thinking," he says.
SmartBrief/SmartBlog on Leadership
(7/3)
Leadership lessons from the Higgs boson
Scientists believe they've finally observed the elusive Higgs boson, an elementary particle believed to give mass to everything in the universe. That's a timely reminder for business leaders of the importance of being persistent, focusing on fundamentals and seeking out simple, elegant solutions, writes Steve Tobak. "I find great humility and comfort in the knowledge that certain principles permeate everything. It certainly puts things in perspective, that's for sure," Tobak writes.
CBS MoneyWatch
(7/3)
Where Barclays' Bob Diamond went wrong
Barclays CEO Bob Diamond turned his small British institution into a world-class investment bank but was forced to fall on his sword after Barclays was fined more than $450 million for manipulating interbank lending rates. British regulators had raised concerns over Barclays' corporate culture and a "breakdown of trust" under Diamond's leadership, and Diamond said he was "sorry, disappointed and angry" about the behavior of Barclays traders.
CNNMoney/Fortune/Term Sheet blog
(7/3),
Financial Times (tiered subscription model)
(7/4)
Strategic Risk Management

In today's business climate, it's become vital to incorporate enterprise risk management into strategic planning. GE Capital offers businesses and consumers around the globe an array of financial products and services, helping to build businesses through capital, insight, knowledge and expertise. We're not just bankers, we're builders.
Visit GE Capital.
The real reason for Microsoft's lost decade
Microsoft's stagnation has been due to a series of "astonishingly foolish management decisions," writes Kurt Eichenwald. The chief offender: stack ranking, a policy that forced managers to label certain percentages of workers as good, middling and poor performers. That demoralized teams, crippled innovation and led to workers competing with one another rather than with rivals, Eichenwald argues.
VanityFair.com/VF Daily blog
(7/3)
Inside GM's plan to put Opel back on track
To turn around its struggling Opel unit, General Motors embarked on a strategic overhaul, says Stephen J. Girsky, GM's vice chairman. It hinged on packing Opel's management and supervisory teams with GM insiders and stressing the importance of getting the unit back in the black. "The last thing you want is for them, the people, to think that it's OK to lose a billion a year. Everything we do revolves around communicating that it's not OK," Girsky says.
Knowledge@Wharton
(7/3)
Innovation and Creativity
How to win over developing-world shoppers
As consumers in Brazil, China, India and Indonesia join the middle class, there's a narrow window of time in which brands can win them over, researchers say. As consumers' purchasing power increases, they form new shopping habits, meaning they're likely to grow wedded to cheap, generic products unless brands persuade them that it's worth springing for premium-label alternatives.
Kellogg Insight
(6/2012)
Chinese CEO shames workers to save the planet
Broad Group CEO Zhang Yue is on a mission to save the planet, and he's determined to make that his workers' mission, too. Yue issues a self-written tract called "Life Attitude of an Earth Citizen" to employees, urging them to avoid personal vehicles and air travel, and to have small families. To drive the point home, Yue also fines workers who waste food at the company cafeteria and has staff post offenders' photos on the wall to shame them into mending their ways.
Reuters/Reuters Magazine
(6/27)
Engage. Innovate. Discuss.
How can you communicate better with your employees?
Respect for your employees as people with needs and a desire to do well should be a crucial component of any internal communications program, said David Grossman at the recent International Association of Business Communicators World Conference. Among his 10 tips: "Provide leaders with tools such as a one-page elevator speech, frequently asked questions and key terms" to educate and inspire your workers, writes Miri McDonald.
SmartBrief/SmartBlog on Leadership
(7/3)
How to take hideous photos of beautiful people
Photographer Joe Klamar is having a rough week after his portraits of the U.S. Olympic squad went viral for all the wrong reasons. A gallery of his images drew the ire of online photography communities, who pointed out that the photos were extraordinarily badly lit, poorly composed and managed to make the Olympic team look downright ugly. One blogger even argued the images were so hideous that they could only have been intended as a deliberate subversive act.
Slate
(7/4)
| | |
| --- | --- |
| | [Microsoft] had a great lead, they were years ahead. And they completely blew it. And they completely blew it because of the bureaucracy." |
Please contact one of our specialists for advertising opportunities, editorial inquiries, job placements, or any other questions.