Live Webinar

OTC Derivatives: Pervasive Regulatory Changes and Impact on Market Participants in Asia, Europe, and Beyond
Tuesday, November 20, 5 p.m. Hong Kong (8 p.m. Sydney, 1 p.m. Dubai, 9 a.m. London)
Click here to register (free) and learn more
Budget optimism in U.S. buoys Asian markets
White House assurances that there's a budget deal in sight that would let the U.S. avoid the dreaded "fiscal cliff" helped lift shares across Asia on Monday. The Nikkei surged 1.43% to 9,153.20, the Hang Seng added 0.49% to 21,262.06, the Kospi rose 0.93% to 1,878.10, and the S&P/ASX was up 0.57% at 4,361.40.
Bloomberg
(11/19)
Capital Markets & Financial Products
China's sunshine funds target global investors through Hong Kong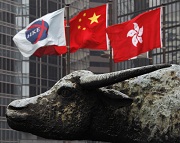 Reuters
China's equivalent of hedge funds are eyeing access to global investors as they contemplate opening offices in Hong Kong. Many of these sunshine private-trust funds are "focusing very much on raising capital from offshore, and all have significant ambitions for alternative investments," one source said.
AsianInvestor.net
(11/19)
Taiwan state funds barred from small-cap stocks
After a regulatory finding that managers of four government funds may have engaged in illegal trading, Taiwan is barring state fund managers from buying small-cap stocks, officials said. Bureau of Labor Insurance deputy manager Luo Wu-hu said the ban seeks to avert stock price manipulation.
The Taipei Times (Taiwan)
(11/20)
Please contact one of our specialists for advertising opportunities, editorial inquiries, job placements, or any other questions.