INTERNATIONAL MARKETS OVERVIEW
The prospect of political difficulty in confronting the self-imposed U.S. "fiscal cliff" occupied investors' minds Wednesday in Europe and the U.S. after the re-election of President Barack Obama, pushing stocks sharply lower on both sides of the Atlantic. The Stoxx Europe 600 dropped 1.35% to 271.04, and the S&P 500 plunged 2.37% to 1,394.53 as the Dow Jones Industrials closed below 13,000 for the first time in three months. Here is a continuously updated list of global stock indexes.
The Wall Street Journal (tiered subscription model)
(11/8),
Bloomberg
(11/7),
CNNMoney
(11/7)
Asian shares rise on U.S. election outcome
Asian stocks got a lift Wednesday as it became apparent that U.S. President Barack Obama had won a second term in office. The Hang Seng rose 0.71% to 22,099.85, the Kospi added 0.49% to 1,937.55, the S&P/ASX was up 0.71% to 4,516.50, while the Nikkei was flat at 8,972.89.
Bloomberg Businessweek
(11/7)
HSBC plans sale of U.S. loans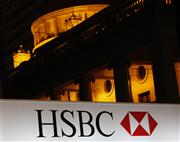 Reuters
In a bid to rid itself of troubled loans, HSBC plans the sale of more than $6 billion in U.S. mortgages and other personal loans. Separately, an Irish fund says HSBC Holdings failed in its custodial duties involving assets ultimately invested with Bernard Madoff.
Reuters
(11/7),
Bloomberg
(11/7)
Reforms are urged for South Korea's dual financial watchdogs
Reforms are being urged for South Korea's two main financial regulators -- one public, the other private -- as critics note overlapping duties that sometimes lead to conflict given the public watchdog's second role of policymaking. "The major problem of our financial regulatory system is that the [government's Financial Services Commission] handles both policymaking and supervisory work. Only Japan and we have such a system," said Kim Hong-ki, a law professor at Yonsei University.
Yonhap News Agency (South Korea) (subscription required)
(11/7)
Please contact one of our specialists for advertising opportunities, editorial inquiries, job placements, or any other questions.