Japanese shares stand out as Asian markets drift
Japanese shares gained on expectations of economic stimulus, but stocks elsewhere in Asia searched for direction Thursday. The Nikkei rose 0.81% to 9,545.16, the Hang Seng edged down 0.09% to 22,249.81, the Kospi was up 0.13% to 1,949.62 and the S&P/ASX was down 0.25% at 4,509.30.
MarketWatch
(12/6)


7 December 2012
11:30 a.m. EST-12:30 p.m. EST
HSBC's U.S. fine is reported to be US$1.8 billion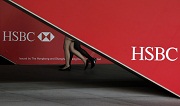 Reuters
Sources say HSBC will pay US$1.8 billion as part of its settlement with U.S. authorities in a money-laundering scandal. The full nature of the final resolution of the case is seen as a signal to other banks of how seriously the U.S. intends on act on future cases of illicit money movements.
The Business Times (Singapore)
(12/6)
StanChart to pay additional penalty in Iran sanctions case
After paying US$340 million in penalties to New York state regulators last quarter, Standard Chartered now expects to pay nearly that much again -- US$330 million -- to U.S. federal regulators over the bank's noncompliance with sanctions against Iran. The penalty will lower StanChart's 2012 result, which nonetheless is expected to be a record for the 10th year running.
The Economic Times (India)/Reuters
(12/6)
Please contact one of our specialists for advertising opportunities, editorial inquiries, job placements, or any other questions.