Asian stocks ebb and flow, with eyes on China, U.S.
Asian stocks groped for direction Monday with conflicting signs of an improving outlook in China and a dimmer outlook for resolution in U.S. budget talks. The Nikkei edged up 0.13% to 9,458.18, the Hang Seng fell 1.19% to 21,767. 85, the Kospi added 0.37% to 1,940.02 and the S&P/ASX was up 0.57% at 4,531.50.
Bloomberg Businessweek
(12/3)
The Gold Standard: A Fifty-Year History of the CFA Charter

An exclusive book offer from CFA Institute
Order yours now
Capital Markets & Financial Products
CME to set up office in Beijing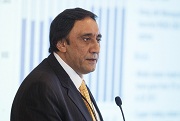 Gill/Reuters
CME Group will establish a foothold in Beijing next year, eyeing what it anticipates will be a growing local appetite for derivatives. "The work we've started 10 years ago, we ramped up in the last three to four years, and this has positioned us in a very good way if China does open up," said CME chief Phupinder Gill.
The Business Times (Singapore)
(12/3)
Please contact one of our specialists for advertising opportunities, editorial inquiries, job placements, or any other questions.