Your feedback is important to us. Click here to email us your feedback.
AAR SmartBrief
April 26, 2012
Industry Update
sponsored by
Illinois proclaims July 1 as Union Pacific Railroad Day
Union Pacific Railroad Day will be July 1 in celebration of the Class I's 150-year anniversary, per decree from Illinois Gov. Pat Quinn and the Illinois General Assembly. "It is an honor to be recognized by the State of Illinois as we commemorate our railroad's sesquicentennial celebration and growing up together," said Bob Turner, UP's senior vice president of corporate relations. RailwayAge.com (4/25) RT&S online (4/25)
Report: NS' intermodal project in N.C. crucial to economy, jobs
Norfolk Southern's $74 million investment in a proposed intermodal facility at Charlotte-Douglas International Airport is needed for the economic growth of the Charlotte, N.C., region, according to an Insight Research report cited by local officials. The project must be undertaken or "fully 12% of the industrial development potential in the region could be at risk," the report notes. About 5,000 jobs would be created over the next two decades as a result of the terminal, which is projected to generate $9 billion in economic activity. Charleston Regional Business Journal (S.C.) (4/25)
CSX rail terminal in Ohio attracts facility project by logistics group
Willmar International, a freight-logistics company, has acquired almost 77 acres in Henry Township, Ohio, and plans to develop its operations there because it is close to a CSX rail terminal. The project is expected to "help jump-start the progress of economic development in the area, allowing companies to build and start creating jobs that will be needed to serve the growing opportunities generated once the CSX intermodal facility is operating at its full potential," according to Willmar International. The Blade (Toledo, Ohio) (4/25)
Other News

Making the Case for Infrastructure Investment
When complete, the Tower 55 Surface Improvements Project will increase rail capacity by an estimated 30 percent, relieve freight congestion and improve livability in the Fort Worth area. Learn how HDR is helping BNSF and UP deliver estimated public benefits of $27.50 per $1 of federal investment, including securing a $34 million TIGER grant.
Advertisement
Infrastructure & Economic Spotlight
Intermodal yard project in La. would ease access to Class I service
The Port of South Louisiana is considering a $1.3 billion project in St. Charles Parish, La., that would build an intermodal rail yard and a container dock in the initial stages of the development. The project would create an easier link to six Class I railroads. The Times-Picayune (New Orleans) (4/25)
House names group to conference with Senate on transportation bill
The House of Representatives has named 20 Republicans and 13 Democrats as conferees to work on the transportation bill. The House voted to conference with the Senate on the bill, but voted down instructions to accept the Senate bill as is. "American workers should not have to wait any longer as Congress searches for an agreement," said Rep. Nick Rahall, D-W.Va. "The time for political games is over." The Hill/Floor Action blog (4/25) The Hill/Floor Action blog (4/25)
Bernanke: Budget solution is critical to economy
Federal Reserve Chairman Ben Bernanke said that the Fed's lower forecasts for growth in 2013 and 2014 may reflect the impact from fiscal tightening, and that Congress needs to reach an agreement to address budget shortfalls. ?If no action were to be taken by the fiscal authorities, the size of the fiscal cliff is such that there?s no chance that the Federal Reserve could or would have any ability whatsoever to offset that effect on the economy,? Bernanke said. Politico (Washington, D.C.) (4/25) The Hill/On The Money blog (4/25) Bloomberg (4/25)
Other News
Safety & Security
NS names 45 winners of Thoroughbred Chemical Safety Award
Norfolk Southern honored the chemical safety efforts of 45 of its customers through the 16th annual Thoroughbred Chemical Safety Award. "Safety is Norfolk Southern's No. 1 priority, and we congratulate these valued customers for their shared commitment to best practices in chemical safety," said NS CEO Charles Moorman. RailwayAge.com (4/25)
AAR News
Railroad industry bestows Union Pacific employee, Sen. Tom Udall with Annual Environmental Stewardship Awards
The Association of American Railroads on Thursday announced Michael Iden, a Union Pacific employee from Chicago, has been awarded the 2012 John H. Chafee Environmental Excellence Award. Sen. Tom Udall, D-N.M., was honored with the 2012 John H. Chafee Congressional Environmental Award. Named after the late senator from Rhode Island -- a strong advocate for conservation and environmental causes who appreciated the environmental advantages of rail transportation -- the Chafee awards recognize a railroad employee and a member of Congress who have demonstrated the highest level of environmental stewardship. Read more.
Meet Chafee Award winner Michael Iden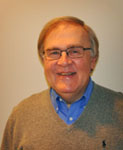 The John H. Chafee Environmental Excellence Award was presented last night to Union Pacific's Michael Iden, one of six nominees for the award. Named for the late senator from Rhode Island, the award is given annually to a railroad employee who has demonstrated an extraordinary commitment to environmental stewardship. A 38-year veteran of the railroad industry, Iden has helped pioneer over 40 new fuel-efficiency improvement and emissions-reduction technologies, from battery technology in locomotives to reducing friction on rails and aerodynamic drag from double stack trains. He has played a key role in the development of emissions reduction technologies like ultra-low emitting locomotives, which at UP have reduced fuel consumption by 5.8 million gallons and eliminated 1,670 tons of oxides of nitrogen, 55 tons of particulate matter, and 65,500 tons of carbon dioxide. Learn more about Mike and the other nominees.
SmartQuote

One person with a belief is equal to a force of 99 who have only interests."
--John Stuart Mill,
British philosopher and political economist
Email: aar@smartbrief.com
Mailing Address: SmartBrief, Inc.®, 555 11th ST NW, Suite 600, Washington, DC 20004
Legal and Privacy information at http://www.smartbrief.com/legal.jsp
Unsubscribe