Your feedback is important to us. Click here to email us your feedback.
SmartBrief on Leadership
April 25, 2012
VIP Corner: Video Insights Powered by Big Think
Invest in people or get ready for an exodus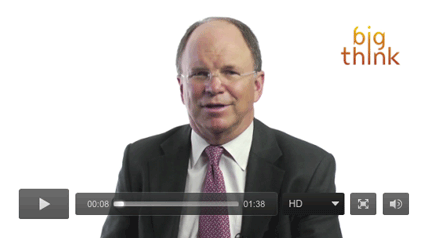 Companies should invest heavily in developing their workers' talent -- or be prepared to see their workers jump ship, says former Deloitte CEO Jim Quigley in this Big Think video. "We must invest in building the capability of our people. And if we don't invest in building their capability, they're going to go someplace else where they think someone will," he says. SmartBrief/SmartBlog on Leadership (4/24)
Leading Edge
Wal-Mart CEO could pay the price for Mexican scandal
Wal-Mart CEO Michael Duke could lose his job over the company's alleged Mexican bribery scandal and possibly head to court to answer criminal charges, experts say. Investigators usually use the Foreign Corrupt Practices Act's bribery rules to prosecute companies rather than individuals, but Duke's reported involvement in a botched internal inquiry and subsequent coverup could give prosecutors the ammunition they need. "If the theory is that Wal-Mart executives created a make-believe investigation, then that would support bringing a case against them," says FCPA lawyer Jeffrey Kaplan. CNNMoney/Fortune/Term Sheet (4/23) New York Post (4/24) Financial Times (tiered subscription model) (4/24)
Bad bosses get the workers they deserve
Being a horrible boss is its own punishment, writes Diego Basch. The more you lecture, talk down to or patronize your workers, the less initiative, loyalty or responsibility they'll offer you in return. "[P]eople become what you expect of them. If you treat your direct reports like children, that's how they will act," Basch writes. Diego Basch's Blog (4/22)
Strategic Management
There's gold in them thar asteroids, investors say
A group of high-profile CEOs, researchers and celebrities have created Planetary Resources, a company that will mine asteroids for precious metals. The firm is backed by the likes of Google's Larry Page and Hollywood director James Cameron. The Wall Street Journal (4/24)
Ivy league or bust? University gambles on growth strategy
North Carolina's middle-of-the-road High Point University is seeking elite status using high-risk tactics more typical of growth companies. University president Nido Qubein took on huge debts to revamp the campus, installing jacuzzis and other luxuries in dormitories to attract fee-paying "clients," and is using students' tuition payments to service debt and fund further expansion. "The money follows the idea," he explains. Bloomberg Businessweek (4/19)
Innovation and Creativity
How to turn your frontline workers into your top innovators
Not all innovation happens in laboratories and research departments, Jeffrey F. Rayport writes. There's also "demand-side innovation" in which frontline, customer-facing workers come up with creative, improvised ways to improve the service they deliver. "At a time when it's become difficult to differentiate just about any product or service for long, this type of innovation is more important than ever," Rayport writes. Harvard Business Review online/HBR Blog Network (4/24)
The Global Perspective
Western firms have little legal recourse in Indonesia
A company run by Tommy Suharto, the son of Indonesia's late dictator, is being sued for $145 million by a group of Western maritime firms over unpaid vessel-leasing fees. The case highlights the risks companies run when they do business in Indonesia, where both the business world and the court system are notoriously corrupt. "When international companies approach me with a foreign judgment that they wish to get enforced in Indonesia, I tell them I doubt success," said Indonesian lawyer Todung Mulya Lubis. The New York Times (tiered subscription model) (4/23)
Engage. Innovate. Discuss.
Tips from Guy Kawasaki for using Google+ to share your passions
If Facebook is for friends and Twitter is for airing opinions, then Google+ is for talking about the things you truly love, Guy Kawasaki says. Don't bother telling your circles what you had for breakfast or what your latest work project is, Kawasaki advises, but instead focus on starting conversations about the things you're passionate about. Where other networks are designed for sharing thoughts with people you already know, Google+ allows users to meet interesting people who share their interests, he says. SmartBrief/SmartBlog on Social Media (4/23)
Daily Diversion
Corpulent kitty put on Atkins-style diet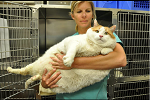 An animal shelter in Santa Fe, N.M., is home to a colossal 39-pound cat whose previous owner likely was sedentary and fed it constantly. The cat's weight is the equivalent of a human weighing 600 pounds, sometimes causing him to wheeze and turn blue when he lies down. Officials say they have put the corpulent kitty on an Atkins-style, high-protein diet to bring his weight down to a manageable level. TodayShow.com/Animal Tracks blog (4/24) Los Angeles Times (tiered subscription model) (4/23)
SmartQuote

If there is one thing that's proven to demoralize a team, it's a boss who constantly reminds them he's in charge."
--Diego Basch, former CEO of IndexTank, writing at DiegoBasch.com
Email: leadership@smartbrief.com
Mailing Address: SmartBrief, Inc.®, 555 11th ST NW, Suite 600, Washington, DC 20004
Legal and Privacy information at http://www.smartbrief.com/legal.jsp
Unsubscribe