Positive news in Japan, U.S. lifts Asian shares
Indications of imminent economic stimulus in Japan and the likelihood of avoiding recession in the U.S. as budget talks reportedly progressed helped Asian shares advance Thursday. Japanese and Hong Kong indexes both rose 0.99%, with the Nikkei ending at 9,400.88 and the Hang Seng at 21,922.89. The Kospi, meanwhile, jumped 1.15% to 1,934.85, and the S&P/ASX was up 0.68% to 4,477.70.
Bloomberg Businessweek
(11/29)
Economic Trends & Outlook
Official: China might miss trade growth target but still gain in 2013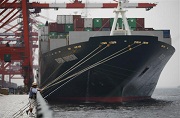 Reuters
A modest recovery in China's trade picture remains in store for 2013, although the country is unlikely to meet its growth target of 10%, Commerce Minister Chen Deming says. Chen also said trade growth should pick up during the new year, with the second half stronger than the first. Separately, Standard & Poor's reaffirmed its rating of China's sovereign debt, indicating continued confidence in the country's economic progress.
China Daily (Beijing)
(11/29),
The Economic Times (India)/Agence France-Presse
(11/29)
Goldman sees accelerating growth for India
India's economy should pick up its pace of growth from this year's 5.4% to 6.5% next year and 7.2% in 2014, Goldman Sachs predicts. Goldman credits stronger external demand, "easing financial conditions, in part driven by some reduction in policy rates, a continuation of reforms boosting confidence, and a normal agricultural crop" for the expected gains.
The Hindu (India)/Press Trust of India
(11/29)
Please contact one of our specialists for advertising opportunities, editorial inquiries, job placements, or any other questions.