Why bosses should stop trying to be right
Good leaders care less about being right than about figuring out what actually is right in any given situation, writes Art Petty. That implies a less authoritative approach to leadership, with bosses focusing less on imposing their will and more on soliciting opinions and perspectives before making decisions. "Effective leaders bite their tongues and ask before they tell," Petty writes.
ArtPetty.com
(11/4)
Lean strategy tips from Tesco's former CEO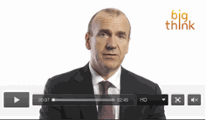 Big Think
Lean business strategies are a smart way for companies to operate more efficiently and wring profitability out of supply chains, says Terry Leahy, former CEO of Tesco, in this Big Think video. "When you conserve things, when you don't waste things, when you're frugal with the use of resources, actually you find that you can produce more for less cost, and that's more profitable," Leahy says.
SmartBrief/SmartBlog on Leadership
(11/20)
Other News
What will people say about you when you're gone?
To lead well, it's worth taking a moment to think about the mark you're leaving on those around you, notes John Baldoni. Try drafting your own eulogy, and reflecting on whether you could be doing more to make a positive difference. "Too often we are overwhelmed by the minutiae of the day, and it is hard to take a step back and gain perspective," Baldoni writes.
SmartBrief/SmartBlog on Leadership
(11/16)
How to lead like a fairytale hero
Fairytales present a vision of leaders as infallible heroes: farsighted, passionate, wise, generous and trustworthy. It's not always possible to live up to those ideals, writes Erika Andersen, but to be effective, leaders must at least try to embody them. "[W]e're still wired to accept as leaders only those who line up with our centuries-old map of leadership attributes," Andersen explains.
Fast Company online
(11/15)
Other News
Dunder Mifflin is now a million-dollar brand
Dunder Mifflin, the lackluster fictional office supplier featured on "The Office," has evolved into a real-world winner. A Dunder Mifflin-branded line of printer paper sold by Quill.com has hit $1 million in revenue, and Quill.com is planning a line of Dunder Mifflin-branded notepads, cups and other office bric-a-brac.
Bloomberg Businessweek
(11/27)
SmartBrief publishes industry-specific e-mail newsletters in partnership with more than 180 leading associations, professional societies, corporations and nonprofits. More than 5.5 million executives and professionals rely on SmartBrief every day to stay informed and save them time.
Please contact one of our specialists for advertising opportunities, editorial inquiries, job placements, or any other questions.