Students in New Zealand speaking native languages get support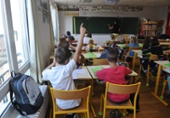 (Xavier Leoty/AFP/Getty Images)
In New Zealand, about 36,000 students received funding through the English for Speakers of Other Languages programme -- 48% of whom were born in the country. The most common native languages spoken among those students are Samoan, Mandarin, Hindi and Tongan.
Stuff (New Zealand)
(16 Nov.)
Should schools invest in phonics instruction?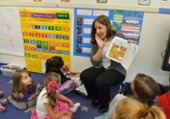 (Paul Marotta/Getty Images)
Officials in England and Australia are overhauling curricula to include a focus on phonics instruction. However, in this commentary by Misty Adoniou, a senior lecturer at the University of Canberra, she shares seven reasons why educators should be wary of some phonics programmes. Instead, Adoniou suggests investing in school libraries, staff and professional development to help students succeed.
The Conversation (Australia)
(17 Nov.)
Other News
Online at Harvard: Leading Change in Education Systems

Managing education systems requires systematic attention to multiple issues. Study with HGSE faculty and learn best practices from the most effective systems across the globe. Adapt emerging strategies and apply them to your own system during this online program from the Harvard Graduate School of Education. Learn More
Cut through the clutter to empower student learning
Teacher Clarity is a process for bringing focus to the most important components of instruction, cutting away aspects that don't help learning. This school district is seeing gains in student performance and agency and teacher effectiveness. See how it created a pathway to success.
Brown: Children's rights to education must be protected in war zones
Schools and children seeking an education no longer are exempt from attack in conflict zones and governments must step up measures to protect children's rights to education, says Gordon Brown, the UN special envoy for global education. "There is no shortage of schools ... of teachers. What there is is a shortage of money, and that reflects a shortage of compassion and political will to act," Brown contends.
Thomson Reuters Foundation
(12 Nov.)
Other News
SmartReport on STEM: Empowering Imagination
SmartBrief's annual SmartReport on STEM highlights individuals who are readying students for working in a STEM-driven society; what it means to STEM like a woman; the progress from STEM to STEAM; the latest STEM tools and products; and more. Download it now.
Professor explores how culture is changing English
The sound of the English language is changing as variations are being spoken in other languages, according to this article by Simon Horobin, a professor of English language and literature at the University of Oxford. He highlights how other languages, cultures and the Internet have influenced the spellings of words while emojis have changed people's communication.
The Conversation (U.S.)
(10 Nov.)
ECIS Educators Conference, Barcelona, 18-21 November 2015
The ECIS Annual Educators Conference takes place this week in Barcelona, Spain. Online registration has now closed, but you can still register onsite at the registration desk. For more details of the programme and location, please visit this link here. Through the theme of this year's conference, Designing on Purpose, we hope to achieve a shift in focus to intention, impact and implementation.
ECIS Flourishing Schools TASIS The American School in England
This two-day conference will expose delegates to both the skills and habits of flourishing as well as providing colleagues with the tools to develop a flourishing culture within the workplace. Introductory and in-depth workshops will be offered in the areas of: resilience, mindfulness, grit, character strength and positive relationships. For more information, visit here and to register, please visit this link.
| | |
| --- | --- |
| | Silence is the bluntest of blunt instruments." |
Founded in 1965, ECIS is a global membership organisation that provides professional development opportunities and consultancy services to its members who are comprised of international schools, individuals and educational organisations.
Please contact one of our specialists for advertising opportunities, editorial inquiries, job placements, or any other questions.