New Zealand focuses on training teachers in ed tech
About 14% of teachers in New Zealand say they are properly prepared to use digital devices in the classroom, according to a recent survey conducted by the government. Now, the Education Council is focused on providing additional training and opportunities for teachers to "up-skill".
3 News (New Zealand)
(04 Jul.)
Other News
Making science stick
Hands-on learning in the science classroom sets objects and concepts within a real-world context. Students connect theory to experience and learning sticks. Get more insights on effective science instruction from the Smithsonian's Carol O'Donnell in this SmartFocus on Hands-on Science.
Report debunks 7 mobile learning myths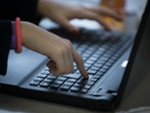 (Matt Cardy/Getty Images)
Mobile learning does not have to be "on the go" and does not have to take place on mobile phones, according to researchers at the University of South Africa, Pretoria. In a recent report, they seek to debunk those and five other myths about mobile learning.
eCampus News (free registration)
(06 Jul.)
Blended and online teaching and learning
Deliver high-quality digital learning environments to your students. With a team-based approach to professional development, teachers and leaders learn how to support blended and online learning initiatives. First Cohort starts 7 July 2015. Pick from either of the following and be part of the learning movement:

Leading Successful Blended and Online Learning Initiatives.
Online Teaching: Fundamentals of Instructional Design.
You can't afford to miss out. Sign up now.
Governance Symposium -- 17 October 2015 -- The American School in London
What does quality governance look like? Our touted SISG programme works with nonprofit and for-profit models, and we'll share some leading insights into these governance perspectives, gleaned from our work. We will open with a keynote from nonprofit governance featured speaker Dick Chait, (Emeritus, Harvard University). Details and registration will soon be open for this day-long symposium. Please confirm your interest here so that we can notify you when registration is open!
| | |
| --- | --- |
| | The reason people find it so hard to be happy is that they always see the past better than it was, the present worse than it is, and the future less resolved than it will be." |
Founded in 1965, ECIS is a global membership organisation that provides professional development opportunities and consultancy services to its members who are comprised of international schools, individuals and educational organisations.
Please contact one of our specialists for advertising opportunities, editorial inquiries, job placements, or any other questions.