Let Them Go! Shed the Business Fears Holding You Back
If your business growth has stalled, it could be because you haven't let go of the worries holding you back. It's time to let them go and move on. Read the featured article to learn more.
This week's poll results: Rubio rules!
Sen. Marco Rubio of Florida leads the pack of Republican 2016 presidential hopefuls, according to those who responded to this week's poll. Rubio was the choice of nearly a quarter of those responding, with New Jersey Gov. Chris Christie close behind. Poll results are listed below. Some readers wrote in suggesting Republican Govs. Scott Walker (Wis.), Mitch Daniels (Ind.), Rick Snyder (Mich.) and Rick Perry (Texas). Next week: The Dems' turn.

| | |
| --- | --- |
| Sen. Marco Rubio (Fla.) | 24.88% |
| Gov. Chris Christie (N.J.) | 22.20% |
| Rep. Paul Ryan (Wis.) | 13.20% |
| Former Gov. Jeb Bush (Fla.) | 13.02% |
| None of the above/other | 11.37% |
| Sen. Rand Paul (Ky.) | 11.19% |
| Gov. Bobby Jindal (La.) | 2.37% |
| Former Sen. Rick Santorum (Pa.) | 1.76% |
Complex Compliance Regulations Raise the Stakes for Organizations
Wage and hour lawsuits are steadily rising thanks to increasingly complex compliance regulations. Insulate your organization from FLSA issues and reduce costs with automated workforce management solutions.
Read the White Paper >>
GOP presidential hopefuls face "conservative litmus test" at CPAC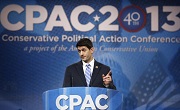 Ryan/Reuters
Republicans making a bid for the 2016 presidential nomination have to balance impressing key conservatives with promoting an expansion of the party a this week's Conservative Political Action Conference. Speakers include Sen. Marco Rubio of Florida, Rep. Paul Ryan of Wisconsin and former Florida Gov. Jeb Bush. "CPAC is where all 2016 candidates need to go to pass the conservative litmus test: Are they for freedom, or for something less?" Republican strategist Alex Castellanos said. However, people considered to be key players in the GOP nomination were not invited to the conference, including New Jersey Gov. Chris Christie and Virginia Gov. Bob McDonnell.
CBS News
(3/15),
CNN/PoliticalTicker blog
(3/15)
Combating Identity Theft in a Mobile, Social World
Mobile connectivity threats extend from consumers to the business environment. But who is really responsible for securing sensitive information? Smart business leaders are becoming proactive on the matter. Learn how to get protected in this white paper. Download the white paper now.
Please contact one of our specialists for advertising opportunities, editorial inquiries, job placements, or any other questions.