The Key To Positive Cash Flow
Every business is cyclical with cash flow ups and downs. The key is to find a way to keep the cash coming in as predictably as possible. Seem impossible? Well it's not. There are systems and processes that make it easier to collect the cash you've earned so your small business can grow. Learn how these small-business owners set up their businesses for success.
This week's poll results: Rubio rules!
Sen. Marco Rubio of Florida leads the pack of Republican 2016 presidential hopefuls, according to those who responded to this week's poll. Rubio was the choice of nearly a quarter of those responding, with New Jersey Gov. Chris Christie close behind. Poll results are listed below. Some readers wrote in suggesting Republican Govs. Scott Walker (Wis.), Mitch Daniels (Ind.), Rick Snyder (Mich.) and Rick Perry (Texas). Next week: The Dems' turn.

| | |
| --- | --- |
| Sen. Marco Rubio (Fla.) | 24.88% |
| Gov. Chris Christie (N.J.) | 22.20% |
| Rep. Paul Ryan (Wis.) | 13.20% |
| Former Gov. Jeb Bush (Fla.) | 13.02% |
| None of the above/other | 11.37% |
| Sen. Rand Paul (Ky.) | 11.19% |
| Gov. Bobby Jindal (La.) | 2.37% |
| Former Sen. Rick Santorum (Pa.) | 1.76% |
The IDC Market Spotlight on Network Automation and Agility
The arrival of virtualization, cloud computing, and mobility has strained data center networks—and IT staff—like never before. This Market Spotlight explains how data center network fabrics provide a foundation for automated provisioning, configuration, and management of network-based services in a new era of IT agility. Download now.
GOP presidential hopefuls face "conservative litmus test" at CPAC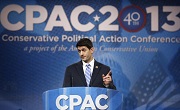 Ryan/Reuters
Republicans making a bid for the 2016 presidential nomination have to balance impressing key conservatives with promoting an expansion of the party a this week's Conservative Political Action Conference. Speakers include Sen. Marco Rubio of Florida, Rep. Paul Ryan of Wisconsin and former Florida Gov. Jeb Bush. "CPAC is where all 2016 candidates need to go to pass the conservative litmus test: Are they for freedom, or for something less?" Republican strategist Alex Castellanos said. However, people considered to be key players in the GOP nomination were not invited to the conference, including New Jersey Gov. Chris Christie and Virginia Gov. Bob McDonnell.
CBS News
(3/15),
CNN/PoliticalTicker blog
(3/15)
The ROI of Privacy with TRUSTe Solutions
Investment in a Data Privacy Management Platform can deliver significant, positive financial returns for corporate bottom lines. The "Total Economic Impact (TEI) of TRUSTe" Study explains how Forrester Analysts calculated a 151% ROI for TRUSTe customers. Download the study now.
Please contact one of our specialists for advertising opportunities, editorial inquiries, job placements, or any other questions.