A new spirit of bipartisanship? Don't hold your breath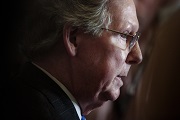 McConnell (T.J. Kirkpatrick/Getty Images)
Last week's bipartisan budget deal probably isn't a sign of things to come, at least in the Senate, experts say. Majority Leader Harry Reid, D-Nev., has plenty on his to-do list, but with an election year in the offing, there's little sign of Democrats being able to win support for any major legislative action. Senate Minority Leader Mitch McConnell, R-Ky., said, "The American people have given us divided government. The administration needs to accept it."
The Washington Post (tiered subscription model)
(12/15),
The Hill
(12/16)
Register for a chance to win four tickets to Daytona Beach
Win a VIP experience in Daytona Beach when FedEx is your freight shipping pit crew. Register at fedex.com/freightsweeps.
This week's poll: Top stories of 2013
It's the time of year when we look back on the past 12 months to see where we've been, and peer into the new year to try to figure out where we're headed. This week's question: What do you think was the most important news story of 2013? Suggested answers are below, but we welcome your suggestions and comments at politics@smartbrief.com. We'll post the results on Friday.
| | |
| --- | --- |
| | Congress, White House strike deal to avoid the "fiscal cliff' |
| | |
| --- | --- |
| | Edward Snowden steals, reveals government secrets |
| | |
| --- | --- |
| | IRS accused of giving extra scrutiny to conservative groups |
| | |
| --- | --- |
| | Budget impasse leads to 16-day partial government shutdown |
| | |
| --- | --- |
| | Republicans, Democrats win in odd-year elections |
| | |
| --- | --- |
| | None of the above/other |
10 Common Website Scenarios That Make a Web CMS Essential
Not running a CMS (Content Management System) yet for your website? Get this guide for 10 common scenarios where a Web CMS is essential. Website authoring, collaboration, and administration tools designed to allow users of any level, to create and manage website content with ease.
Chart suggests Ryan won the budget negotiations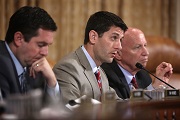 Ryan (Alex Wong/Getty Images)
Rep. Paul Ryan, R-Wis., should be happy with the outcome of his budget negotiations with Sen. Patty Murray, D-Wash., writes Matthew O'Brien. The compromise deal actually has less discretionary spending than was called for in Ryan's original budget, suggesting that Ryan succeeded in shifting the political balance in favor of austerity.
The Atlantic online
(12/13)
Who had the worst year in Washington?

Obama (Ron Sachs-Pool/Getty Images)
It was a bad year for Republicans, but an even worse one for President Barack Obama, writes Chris Cillizza in his annual summing-up of the year's political disasters and disappointments. "The damage done to Obama's brand will linger well beyond this calendar year. There are no second chances in presidential tenures," he writes.
The Washington Post (tiered subscription model)
(12/13)
| | |
| --- | --- |
| | It is possible to read the history of this country as one long struggle to extend the liberties established in our Constitution to everyone in America." |
Please contact one of our specialists for advertising opportunities, editorial inquiries, job placements, or any other questions.