The state of health IT 2013
Health IT priorities in 2013 were largely dictated by federal mandates, although CIOs had many concerns that went beyond government initiatives. Staffing challenges, health IT-related errors, the quality of available EHR systems and Big Data were top of mind for most CIOs in 2013. The year also brought some unique concerns as CIOs wondered how the federal government shutdown would affect ONC programs.

CIOs were also very interested over the past year in government attitudes on postponing certain initiatives, including stage 2 of the meaningful use program, as well as stage 3, plus HIPAA operating rules and ICD-10.

While the federal government may not have always been quick to make the changes CIOs wanted, it tried to be helpful with resources, including the stage 2 MU transitions of care guide, updates to HIPAA regulation, tips on achieving stage 3 MU and HIE guidance.
Q-and-A with George Hickman
George Hickman, executive vice president and chief information officer at Albany Medical Center, talks about competing CIO priorities, the upcoming switch to ICD-10 codes, meaningful use and the challenges in the year ahead. "As to what remains of 2013 and looking forward to 2014, my advice to CIO colleagues is to keep executive sponsors and other constituents well-engaged and informed, hold on to your best people and make your choices wisely," he said. Read the interview.
ICD-10. P4P. MU2. Your challenges... our solutions.
Healthcare's full of "alphabet soup" programs and constant change, and more's on the way. Greenway believes the answer is a smarter platform where clinical processes drive financial processes and performance—clinically driven revenue cycle management. Let us show you how to survive and thrive.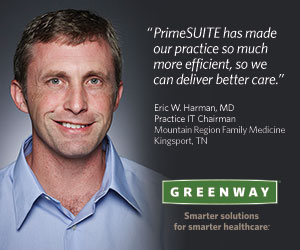 Product announcements appearing in SmartBrief are paid advertisements and do not reflect actual CHiME endorsements. The news reported in SmartBrief does not necessarily reflect the official position of CHiME.
Life isn't about finding yourself. Life is about creating yourself.
It is wise to keep in mind that neither success nor failure is ever final.
Action is a great restorer and builder of confidence. Inaction is not only the result, but the cause, of fear.
Expect people to be better than they are; it helps them to become better. But don't be disappointed when they are not; it helps them to keep trying.
Here is the test to find whether your mission on Earth is finished: if you're alive, it isn't.
Anyone who keeps the ability to see beauty in every age of life really never grows old.
I don't know the key to success, but the key to failure is trying to please everybody.
Success is a lousy teacher. It seduces smart people into thinking they can't lose.
I'm slowly becoming a convert to the principle that you can't motivate people to do things, you can only demotivate them. The primary job of the manager is not to empower but to remove obstacles.
You may be disappointed if you fail, but you are doomed if you don't try.
Healthcare revolves around data and reporting, so building a connected community is a no-brainer.

But how? Greenway provides a solution that your affiliate staff will embrace, that provides the right clinical analytics, uses standards-based interoperability with acute care systems, and is backed by customer service that's the envy of the industry. We believe that building a smarter healthcare system can begin today. How can we help you?
Please contact one of our specialists for advertising opportunities, editorial inquiries, job placements, or any other questions.