Becoming the boss can be like being swept overboard
Abruptly being promoted into a leadership position is like being swept into "turbulent seas ... without a visible lifeboat," writes Art Petty. To stay afloat, it's important to be realistic about your new role, to work hard and humbly, and to support subordinates and superiors. "[I]t's up to you to sink or swim," Petty writes.
ArtPetty.com
(2/24)
5 tips for managing negative online comments
The Internet gives your customers a voice online, but what can you do when that voice is yelling negative comments? With 5 tips, you can learn how to positively respond and help direct the conversation. Read the article and learn the 5 ways to respond positively.
A 3-step process for choosing the size of your sales force
You may need to add more representatives to your sales team if customers aren't getting the service they need or if salespeople are overworked, write Andris Zoltners, PK Sinha and Sally Lorimer. Analyze the needs of your customers and pay attention to financial ratios as you decide whether to adjust the size of your sales force, they advise. "Often, by shifting coverage of lower-value customer segments to more efficient channels such as telesales, it's possible to improve financial ratios while giving up minimal coverage of market potential," they write.
Harvard Business Review online/HBR Blog Network
(2/26)
Form an agreement to get sales and marketing on the same page
Sales and marketing departments can work together by making sure that both teams have goals and that progress toward those goals is communicated throughout the organization, writes Ellie Mirman. Mirman explains how to create an agreement that "details both the marketing goal ... and the sales activity ... each team commits to in order to support the other."
HubSpot.com
(2/28)
Building Workplace Trust 2015
Interaction Associates' 6th annual research study tracking trust on the job, Building Workplace Trust, is out, and more than half of employees surveyed give their organizations low marks for trust and leadership. Yet this year's findings again point to how high trust leads to better outcomes and financial results — and even boosts innovation.
U.S. revises 4th-quarter GDP to 0.1% gain; jobless benefit claims fall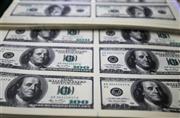 Reuters
As expected, revised government figures showed the U.S. economy did not contract but rather grew in the fourth quarter, although the minuscule 0.1% expansion was disappointingly low. Meanwhile, the Labor Department reported that initial claims for jobless benefits fell by 22,000 last week, beating projections and adding to recent signs of economic recovery.
Reuters
(2/28)
The IDC Market Spotlight on Network Automation and Agility
The arrival of virtualization, cloud computing, and mobility has strained data center networks—and IT staff—like never before. This Market Spotlight explains how data center network fabrics provide a foundation for automated provisioning, configuration, and management of network-based services in a new era of IT agility. Download now.
The ROI of Privacy with TRUSTe Solutions
Investment in a Data Privacy Management Platform can deliver significant, positive financial returns for corporate bottom lines. The "Total Economic Impact (TEI) of TRUSTe" Study explains how Forrester Analysts calculated a 151% ROI for TRUSTe customers. Download the study now.
Get a handle on your customers with these apps
A number of mobile apps track key information for small businesses and offer insights about customers' preferences and behavior. Among them: QuickTapSurvey allows customers to submit instant feedback, and ScanBizCards scans business cards and integrates the information with your contact list, LinkedIn and customer relations management services.
Intuit Small Business Blog
(2/25)
Ever wanted to be a gummy bear? Now's your chance
A Japanese company is offering to make gummy-bear replicas of its customers. For $65, the firm will process customers with 3D scanning technology and use the data to produce delicious and meticulously accurate candy replicas. "I don't know a single sane person that wouldn't be excited about doing this," writes Casey Chan.
DesignTAXI.com
(2/26),
Gizmodo
(2/25)
| | |
| --- | --- |
| | Your team knows more about working together than you might give them credit for. ... Resist your urge to tell, and instead, focus on asking for ideas and input." |
Please contact one of our specialists for advertising opportunities, editorial inquiries, job placements, or any other questions.