How to stand up to a bully when it's a client
Customers can be assets, but they can also be abusive, badgering and manipulative, writes Baron Christopher Hanson. Companies should analyze why they are being bullied, identify internal weaknesses and then implement change with a "cash register" focus, even if it means some customers go away. "To be clear, there is a difference between firing customers and queuing qualified prospects more carefully. The strategy is to prevent bad eggs from getting on the bus in the first place," Hanson writes.
SmartBrief/SmartBlog on Leadership
(3/13)
Networking with the boss
Having lunch with the boss might make you nervous, but you can combat your jitters by preparing beforehand with some topics of conversation and thinking of questions he might ask, Molly Ford writes. "I can almost guarantee he'll ask you about your career goals or where you see yourself in five years, so have an honest and thoughtful answer ready," she writes, adding that you should follow up the lunch with a verbal and written thank you.
TheDailyMuse.com
(3/20)
How to appear unruffled during an interview
During interviews, give the impression of being relaxed by making sure you're prepared with talking points and banishing negative thoughts, experts say. "[C]reate a different self-talk message, like, 'I am here to share to the best of my ability and that is all I can really do,'" says John Molidor, co-author of "Crazy Good Interviewing."
CBS MoneyWatch
(3/20)
Tips for controlling stress on the job
Deep breathing, having a plan for responding to interruptions and setting aside time for deep thinking will help limit your work stress, says Sharon Melnick, author of "Success Under Stress."
Forbes
(3/20)
Mapping the marketing of March Madness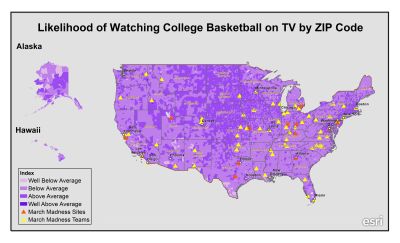 Click on the image to enlarge map.
The tip-off of March Madness means people will be making big money over the next few weeks; and not just the casinos or the guy in the mailroom who wins the office pool. Many companies plan massive advertising campaigns centered on the annual month of hoops mania. This post maps the regions of the country most-likely to watch the tournament and details the kind of demographics marketers use to target the most avid hoops fans.
SmartBrief/SmartBlog on Leadership
(3/18)
Please contact one of our specialists for advertising opportunities, editorial inquiries, job placements, or any other questions.