How to lead like a chess master
Former chess star Justin Moore is now CEO of cloud-services company Axcient -- and he says his time at the chessboard helped prepare him to be a better boss. Chess is deeply strategic and involves planning several moves ahead, just as CEOs need to plan for their company's future. "Chess is constantly teaching you to think about what comes next, and what comes after that, and what the repercussions could be," Moore says.
Fast Company online
(2/19)
Share:





[Free eBook] Hacking Value Delivery: The CIO and the Age of the Customer
CIOs today have a wealth of opportunity available to them in the Age of the Customer, and they play an even more paramount role in their organization as enterprises become increasingly digital and customer-centric. Unfortunately, CIOs are also up against outdated notions of their role - and limited budgets. As a result, too few CIOs have fully embraced the opportunity to drive their businesses into the customer age. Learn how to make the cultural change to a customer-first approach with this free eBook. Get it now.
Playboy CEO tries to build a better bunny
Playboy Enterprises is reinventing itself as a leaner, slicker and marginally less sleazy business. The company has sold off most of its TV and digital properties and signed deals with high-end brands such as Dolce & Gabbana. "Our favorite line is, 'Less sweatsuit, more Tom Ford,' " Chief Marketing Officer Kristin Patrick says.
The Wall Street Journal
(2/19)
Share:





Google borrows from Apple's playbook with retail stores
Google is planning Apple-style retail stores in an attempt to build a market for devices running its Android and Chrome operating systems. "Historically, Google has had trouble selling stuff directly to customers online," notes analyst Greg Sterling. "Apple is obviously a model of enormous success with its retail strategy, and if Google wants to do it right and invest in it, it can be a big boost for the brand."
Bloomberg Businessweek
(2/19)
Share:





Making Work-Life Balance Work
For startups or established enterprises, juggling the demands of work and the rest of your day means knowing what's important, setting boundaries and getting creative. Click here to read Boomtown: Think Like a Startup
Innovation and Creativity
Can Kraft Foods find a recipe for innovation?
Kraft used to be considered a company "where good ideas go to die," but after spinning off its global snacks business, Kraft Foods is seeking to regain its innovation mojo. The company is focusing on creating a can-do culture that produces fewer ideas, but ones that strike it big. "We understand our obligation to innovate and contemporize. This is not your father's Kraft," CEO Tony Vernon says.
Forbes
(2/19)
Share:





Innovation tips from John Cleese, Ricky Gervais and Louis CK
Comedians know a thing or two about creativity, says John Cleese. Work is a place for play and taking pleasure in finding new ways of doing things, Cleese argues. "Creativity is not a talent; it's a way of operating," he says.
Inc. online (free registration)/Pragmatic Leadership blog
(2/19)
Share:





How Mexican brands won a following in China
Mexican food companies are gaining a foothold in China despite consumers' relative lack of interest in Western food products, says Wharton professor Z. John Zhang. "With enough money and enough time, you can sell anything in China," Zhang notes. "China is big enough that no matter what you do, you can find enough people to sell to in order to be profitable."
Knowledge@Wharton
(2/19)
Share:





Engage. Innovate. Discuss.
How to sell your ideas like a "Shark Tank" contestant
The reality show "Shark Tank," in which would-be entrepreneurs pitch ideas to judges, should be required viewing for business leaders, Stephanie Scotti writes. Contestants use attention-grabbing techniques, make their presentations personal, get judges directly involved and end with strong calls to action. "Consider applying these lessons to boost your confidence, inspire your listeners and exponentially increase your chances for a high-impact presentation," Scotti writes.
SmartBrief/SmartBlog on Leadership
(2/19)
Share:





My kingdom for a hearse: What to do with Richard III?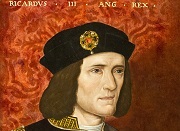 Richard III/Reuters
Now that the remains of Richard III have been confirmed, experts are looking to the next step: a proper burial. The Richard III Society has been working on a design for his tomb, which it recently unveiled. Richard III will be reinterred next year.
BBC
(2/12)
Share:





Connect with us on Twitter
Follow @SBLeaders on Twitter for more leadership and management news from SmartBrief on Leadership's lead editor, James daSilva. Join the conversation.
Share:





The Buzz
Let the University of Tennessee Improve Your Supply Chain Management Advantage
A global supply chain doesn't manage itself. Neither does your career. We partner to improve competitive advantage – for both you and your organization – and to help you leverage it.
Learn from the best!
Ours is the longest running certification program, and we're ranked #1 for our supply chain research.
Learn More
.
You should bring something into the world that wasn't in the world before. It doesn't matter what that is. It doesn't matter if it's a table or a film or gardening -- everyone should create."

-- Ricky Gervais, comedian, as quoted at

Inc.com's Pragmatic Leadership blog

Share:

         
Please contact one of our specialists for advertising opportunities, editorial inquiries, job placements, or any other questions.