Mortgage-bond provisions prompt rating agency concerns
As the residential mortgage-backed securities market begins to recover, banks looking to issue more mortgage-backed bonds want to include more restrictions in the documentation that assures the security of the underlying loans. Credit rating agencies remain concerned with the practice, with Moody's Investors Service and Fitch Ratings citing concerns that the restrictions might shield lenders and issuers from their legal liabilities. Moody's also said that the issue could keep some of the securities from getting top ratings.
The Wall Street Journal/Developments blog
(3/11)
SEC nominee White emphasizes need to understand HFT
In testimony prepared for a confirmation hearing, Mary Jo White, nominated to head the Securities and Exchange Commission, highlights a need to better understand high-frequency trading, as well as a need for strict enforcement. "There must be a sense of urgency brought to addressing these issues to understand their impact on investors and the quality of our markets so that the appropriate regulatory responses can be made," White says in reference to HFT. She also says an aggressive enforcement policy "is not only the right thing to do, but it also will serve to deter the sharp and unlawful practices of others."
Bloomberg
(3/11),
Reuters
(3/11),
The Washington Post
(3/11)
Mapping the U.S. housing recovery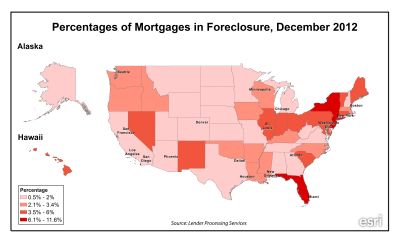 Click on image to enlarge map.
Lost amid all the political gridlock in Washington has been one major positive indicator for the U.S. economy: The housing market is starting to rebound. Real estate foreclosures, mortgage delinquencies and vacancies are all on the decline. This article uses maps to drill down to the state and ZIP code level to analyze the most promising sections of the country for housing-related businesses.
SmartBrief/SmartBlog on Finance
(3/8)
Global X ETF focuses on low volatility and high dividends
Global X Funds is introducing on NYSE Arca an exchange-traded fund that buys low-volatility equities that pay high dividends. The Global X SuperDividend U.S. ETF is linked to the INDXX SuperDividend U.S. Low Volatility Index. The ETF invests in stocks, real estate investment trusts and master limited partnerships.
IndexUniverse.com
(3/11)
Please contact one of our specialists for advertising opportunities, editorial inquiries, job placements, or any other questions.