It's time to get smart, Obama tells lawmakers
Biden, Obama, Boehner/Reuters
President Barack Obama used his State of the Union address to call for an end to the politics of austerity -- and to pitch a plan for implementing an aggressively liberal agenda without breaking the bank. The president called for key policies to be funded using public-private partnerships and state-federal cost-sharing, or by establishing creative tax credits to spur private investment. "It's not a bigger government we need, but a smarter government that sets priorities and invests in broad-based growth," Obama said.
The New York Times (tiered subscription model)
(2/13),
The Wall Street Journal
(2/13)
Share:





Rubio, Paul offer scathing SOTU rebuttals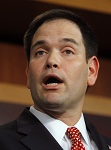 Rubio/Reuters
Sens. Marco Rubio of Florida and Rand Paul of Kentucky gave scathing responses to President Barack Obama's State of the Union address Tuesday night. Paul, speaking for the tea party, called on Democrats and Republicans to compromise in order to fix the nation's finances, while Rubio, giving the official Republican response, accused Obama of failing to protect the middle classes. "As you heard tonight, his solution to virtually every problem we face is for Washington to tax more, borrow more and spend more," Rubio said.
McClatchy Washington Bureau
(2/12)
Share:





Other News
Analysis: Key policy proposals from Obama's big speech
National Journal

(2/12)




Share:

         
Transcript: Obama's State of the Union address in full
The Atlantic online

(2/12)




Share:

         
How to Innovate and Grow Your Business
Innovation doesn't have to be expensive, time-consuming, or even all that difficult. Award-winning trend expert Scott Steinberg shares 4 inspiring stories of innovation from the smallest startups up to household brand names to demonstrate how your business can learn and grow. Read the guide
Obama wants to bring back big government, GOP lawmakers say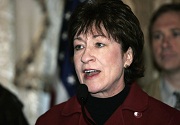 Collins/Reuters
President Barack Obama's State of the Union speech was a confrontational display of big-government boosterism that offered little space for Republicans and Democrats to find common ground, GOP leaders said. The speech stood in sharp contrast to Bill Clinton's assertion, during the mid-1990s, that the era of big government was over, lawmakers said. "I could have summed up Obama's speech in two words: It's back," said Rep. Matt Salmon of Arizona.
The Wall Street Journal
(2/13),
The Hill
(2/13)
Share:





Parallel programs bleed Pentagon billions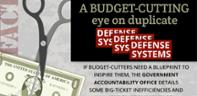 Source: Face the Facts USA
In this era of deficit debates and possible automatic budget cuts, a federal watchdog agency has identified billions of Pentagon dollars wasted through overlapping programs.
Face the Facts USA
(2/13)
Share:





Interactive map plots SOTU buzz in real time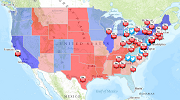 ESRI
An online map plots the social media reaction to President Barack Obama's State of the Union address. The tool also lets users contrast the online buzz with state-level results from the 2012 presidential election.
Esri
(2/13)
Share:





Columnist Jill Lawrence: Obama's laundry list will define his legacy
National Journal

(2/13)




Share:

         
Columnist Jamelle Bouie: Obama's policy plan will be DOA in Congress
Prospect.org

(2/13)




Share:

         
Editorial: Obama wants every day to be Fat Tuesday
National Review

(2/13)




Share:

         
Rubio lights up Twitter with "watergate" moment
Sen. Marco Rubio delivered the GOP rebuttal to President Barack Obama's State of the Union address -- but Twitter users were more interested in a bizarre moment during which the Florida lawmaker stopped talking and ducked and weaved out of sight, only to re-emerge with a bottle of water. "Marco Rubio, the man you want to have a desperate gulp of water with," tweeted Democratic strategist Paul Begala.
USA Today
(2/13)
Share:





Please contact one of our specialists for advertising opportunities, editorial inquiries, job placements, or any other questions.