CIA curriculum developer dishes on the future of food
Local sourcing is important for restaurants and communities, but it's just as important to speak honestly about what can and can't be sourced locally, and to avoid diluting the "farm-to-table" message, said CIA professor Jonathan Zearfoss. Zearfoss, who took the lead on developing the curriculum for the school's new culinary science program, also talks about the role of science in the culinary arts and the impact of increased exposure to global cuisines.
SmartBrief/SmartBlog on Food & Beverage
(12/11)
Share:





These are the stories read and shared most by ProChef SmartBrief readers in 2012
Which food trend will make the biggest impact on your menu in 2013?
| | | |
| --- | --- | --- |
| 37% | | Growing demand for flexitarian/meatless dishes |
| 28% | | Ethnic/fusion cuisine |
| 22% | | Customization |
| 14% | | Consumers' increasing snack habit |
Share:





What will be the best culinary resource in 2013?
| | | |
| --- | --- | --- |
| 46% | | Blogs, Twitter and other social media tools |
| 23% | | Cookbooks |
| 18% | | Culinary and foodservice conferences and summits |
| 15% | | Other |
Share:





In what menu category are you most likely to experiment with spicy flavors?
| | | |
| --- | --- | --- |
| 68% | | Appetizers/small plates |
| 27% | | Main dishes |
| 5% | | Desserts |
| 2% | | Beverages |
Share: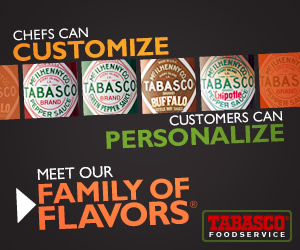 Product announcements appearing in SmartBrief are paid advertisements and do not reflect actual CIA endorsements. The news reported in Smartbrief does not necessarily reflect the official position of CIA.
These are the quotes ProChef SmartBrief readers shared most in 2012
Education is the ability to listen to almost anything without losing your temper or your self-confidence.
Striving for excellence motivates you; striving for perfection is demoralizing.
Many of life's failures are people who did not realize how close they were to success when they gave up.
Now and then it's good to pause in our pursuit of happiness and just be happy.
Until you value yourself, you won't value your time. Until you value your time, you won't do anything with it.
The best people possess a feeling for beauty, the courage to take risks, the discipline to tell the truth, the capacity for sacrifice.
Opportunity is missed by most people because it is dressed in overalls and looks like work.
One thing I am convinced more and more is true and that is this: The only way to be truly happy is to make others happy. When you realize that and take advantage of the fact, everything is made perfect.
If you do not feel yourself growing in your work and your life broadening and deepening, if your task is not a perpetual tonic to you, you have not found your place.