5 minutes is all it takes to stay in the loop, Patagonia CEO says
Patagonia CEO Yvon Chouinard requires his employees to spend 15 minutes a week writing up how their work week went and any ideas they have, while his managers then spend five minutes reading each report. Now, a startup called 15Five wants to commercialize that notion, helping companies build internal communications tools that can keep managers in the loop. "[I]t's nice to see a young business spreading the wisdom of an illustrious forebear -- and making money in the process," writes Leigh Buchanan.
Inc. magazine
(3/2013)
Tomorrow, March 21, 2013 @ 11am PT | 2pm ET
Attend this webinar to learn:
• Plan for real-time opportunities across multiple channels
• Get results that move campaigns beyond hype via social
• Best practices for developing a real-time marketing program
Register today!
See-through yoga pants could cost Lululemon big bucks
Canadian sporting-wear manufacturer Lululemon is in trouble after inadvertently making some of its yoga pants out of a near-transparent material. Lululemon will withdraw 17% of inventory and could lose more than $20 million in revenue. The situation has received considerable social media scrutiny, as Sheila Shayon documents for Brandchannel.
Reuters
(3/18),
BrandChannel.com
(3/19),
Bloomberg
(3/19)
Innovation and Creativity
Innovation or stagnation? Observers divided

A debate is developing over whether the pace of major technological innovations is slackening to the point of near stagnation. One factor in how quickly progress is made is the role of governments, which talk a good game but often act in the other direction with stifling regulations and a reluctance to fund the kinds of projects that can produce big payoffs, writes Paul Sloane.
InnovationExcellence.com
(3/19)
Do you find yourself to be more of a critic or a creator?
| | |
| --- | --- |
| I'm a creator -- I lead the building of new things in our organization | 56.63% |
| I'm a critic -- other people build things and I give feedback and direction to them | 43.37% |
How well do you defend your team members from the bureaucracy above you?
| | |
| --- | --- |
| | Very well -- the team is insulated from it |
| | |
| --- | --- |
| | Somewhat -- they experience some bureaucracy but I shield them from most |
| | |
| --- | --- |
| | Not well -- I don't shelter them very well from it |
| | |
| --- | --- |
| | Poorly -- the team bears the full brunt of organizational bureaucracy |
The Detroit exec who took over a Russian truckmaker
Former General Motors executive Bo Andersson went from Detroit to Nizhny Novgorod, a Russian industrial metropolis, where he's overseeing efforts to turn around GAZ Group, a struggling Soviet-era truckmaker. Insiders say Andersson has demonstrated an ability to bring Western-style management practices to Russia while successfully navigating the country's thorny political environment. "I liked the challenge and I have never regretted it," Andersson says.
The Wall Street Journal
(3/20)
Engage. Innovate. Discuss.
Did you accidentally hire a "corporate misfit"?
Even the most promising potential recruits can under-deliver, writes Ritika Trikha. That's typically because you've inadvertently hired a "cultural misfit" who simply doesn't match up to the work environment. "In most cases, you simply can't fit a square into a circle. So it's up to you to decide just how flexible you are willing to be with your smart, cultural misfit," Trikha writes.
SmartBrief/SmartBlog on Leadership
(3/19)
Mapping the marketing of March Madness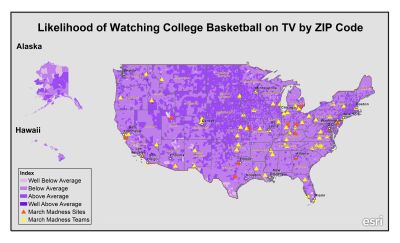 Click on the image to enlarge map.
The tip-off of March Madness means people will be making big money over the next few weeks; and not just the casinos or the guy in the mailroom who wins the office pool. Many companies plan massive advertising campaigns centered on the annual month of hoops mania. This post maps the regions of the country most-likely to watch the tournament and details the kind of demographics marketers use to target the most avid hoops fans.
SmartBrief/SmartBlog on Leadership
(3/18)
SmartBrief and Babson are hosting an "entrepreneurial behavior" workshop
SmartBrief is partnering with Babson to host an interactive workshop today on how to better spot, sponsor and support entrepreneurial behavior in the workplace. Follow us on Twitter @SmartBrief starting at 1 p.m. today and look for more coverage at SmartBlog on Leadership.
Does it makes sense for your company to maintain a relationship with a customer after a sale is completed?
| | |
| --- | --- |
| | Yes -- maintaining a relationship helps to increase future sales |
| | |
| --- | --- |
| | Somewhat -- we like happy clients, but there's little for us to do after the sale |
| | |
| --- | --- |
| | Not really -- once they've purchased from us, they probably won't have any more need for us |
| | |
| --- | --- |
| | No -- for us, investing in a post-sale relationship is a waste of resources |
| | |
| --- | --- |
| | The most common way people give up their power is by thinking they don't have any." |
Please contact one of our specialists for advertising opportunities, editorial inquiries, job placements, or any other questions.