This week's poll: Deal or no deal?
President Barack Obama signed the order Friday night for federal agencies to make $85 billion in across-the-board spending cuts as required under the process known as sequestration. Despite predictions of dire consequences to national security, safety and health, there doesn't seem to be a rush on the part of government leaders to reverse the process. This week's question: What do you think the president and Congress will do in the next 30 days regarding these budget cuts? Suggested answers are below. As always, if you answer "None of the above/other" or just want to share your reasons for voting the way you did, you can contact us via this link. Results will be posted Friday.
| | |
| --- | --- |
| | Reach an agreement on taxes and spending cuts to replace the sequestration |
| | |
| --- | --- |
| | Reach an agreement to suspend the sequestration cuts while a deal is being worked out |
| | |
| --- | --- |
| | Allow sequestration to go forward while negotiating a new short-term budget agreement |
| | |
| --- | --- |
| | Allow sequestration to continue until new, long-term budget and tax reform legislation takes its place |
| | |
| --- | --- |
| | Nothing. They will be unable to reach a new short- or long-term budget deal before the 2014 elections |
| | |
| --- | --- |
| | None of the above/other |
Not being president "kills me," Romney says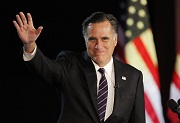 Romney/Reuters
In his first major interview since the November election, Mitt Romney had sharp words both for President Barack Obama and for his own campaign. While wife Ann Romney blamed the media for her husband's loss, the former candidate admitted that he'd struggled to reach minorities, and had harmed his campaign with his "very unfortunate" 47% comment. "It kills me not to be there, not to be in the White House doing what needs to be done," Romney said.
FoxNews.com
(3/3),

The Christian Science Monitor/The Associated Press
(3/4)
News cycle set to shift from Washington to Rome, but how many Americans care?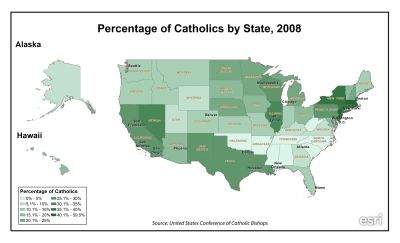 Click on image to enlarge map.
Headlines about sequestration and a government shutdown look certain to be interrupted by a news cycle featuring wall-to-wall coverage of the election of a new pope. But how many Americans really care who takes the helm of the Catholic church? This analysis maps the popularity of Catholicism within the U.S. It also maps which states have the most Catholics and suggests reasons for the regional popularity of the religion.
SmartBrief/SmartBlog on Leadership
(3/3)
Michelle Obama busts some moves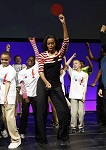 Obama/Reuters
Michelle Obama put in an appearance on "Late Night" last week, joining a bewigged Jimmy Fallon in a demonstration of moms' dance moves through the ages. The clip proved a viral hit, with 14 million views so far.
All Things D
(3/3)
Please contact one of our specialists for advertising opportunities, editorial inquiries, job placements, or any other questions.