Obama and Republicans break silence and restart budget talks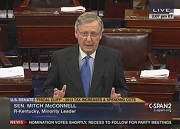 McConnell/C-SPAN via Reuters
The White House and Republican leaders have restarted talks on how to avert across-the-board spending cuts set to take effect March 1. President Barack Obama spoke with Senate Minority Leader Mitch McConnell of Kentucky and House Speaker John Boehner of Ohio. White House spokesman Jay Carney said the conversations were "good" but didn't give details.
Reuters
(2/21)
Share:






Fed purchases grow balance sheet to record size
The Federal Reserve's purchases of mortgage-backed securities and Treasurys has grown its balance sheet to record size for the third consecutive week. As of Wednesday, the balance sheet was valued at $3.077 trillion, up from $3.056 trillion a week earlier.
Reuters
(2/21)
Share:






Commission finds U.K. audit market needs more competition
A lack of competition in the U.K. audit market could lead to lower-quality services and higher prices from the Big Four auditors, according to a report from the U.K. Competition Commission. The commission doesn't call for breaking up the firms and is looking into several measures, including requiring companies to rotate auditors every seven to 14 years and tender audit work every five to seven years. The Big Four insist there is strong competition.
The Guardian (London)
(2/22),
Reuters
(2/22)
Share:






FSOC is asked to ease its pressure on SEC for money-fund rules
The Financial Stability Oversight Council should reduce its pressure on the Securities and Exchange Commission to adopt rules for money market funds, a group of former SEC officials says. A letter from the group asks the FSOC to "respect the jurisdiction, independence, subject-matter expertise and regulatory processes" of the SEC.
Reuters
(2/21)
Share:






4 ways to praise your employees
Some bosses find it easy to be critical of failure but difficult to praise good work, writes Mary Jo Asmus. It's important to notice and celebrate small victories as well as milestones, Asmus argues. "A little bit of noticing and letting them know what you observe can go a long way, especially if you have a habit of being critical," she writes.
Aspire-CS.com
(2/18)
Share:






Is your network ignoring you?
Don't get disheartened if you reach out to others and don't get a response, experts say. People are busy or may feel they can't help you, but are more likely to respond if you offer to help them or are just friendly, says Keith Ferrazzi, author of "Never Eat Alone." "Nobody really has time for anybody unless you give them a reason to have time," he says.
CNNMoney/Fortune
(2/20)
Share:






Dolphins are not anonymous, researchers say
Wild dolphins call one another by name, researchers say. The creatures, which tailor whistles for specific acquaintances, are the first non-human species to be shown to use signature communications for one another.
Wired.com
(2/20)
Share:






Nobody really has time for anybody unless you give them a reason to have time."

-- Keith Ferrazzi, author of networking guides "Who's Got Your Back" and "Never Eat Alone," as quoted by

CNNMoney/Fortune

Share:

         
Please contact one of our specialists for advertising opportunities, editorial inquiries, job placements, or any other questions.