Obama seeks budget-deal support from Republicans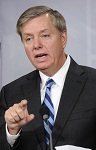 Graham/Reuters
Putting talks with GOP leaders on the back burner for a while, President Barack Obama is reaching out to rank-and-file Senate Republicans to build support for a budget deal with higher taxes to pay down U.S. debt. Obama told senators that he is willing to make changes in health care and retirement programs to get a budget compromise that includes higher taxes.
The Washington Post
(3/5),
Bloomberg
(3/6)
Service industries show surprising strength
Momentum is evident in service industries, with the Institute for Supply Management's nonmanufacturing index rising unexpectedly last month, to 56, from 55.2 in January. Resurgence in the housing market is cited as a supporting factor, along with a gradually firming labor market.
Bloomberg
(3/5)
How sequestration might affect corporate taxes
Sequestration might reduce refundable credits for certain tax-exempt bonds, including Build America, Qualified School Construction, Qualified Zone Academy, New Clean Renewable Energy and Qualified Energy Conservation bonds. Also possibly affected is the refundable portion of the Small Business Health Care Tax Credit, the Internal Revenue Service says.
Accounting Today
(3/5)
Study examines companies' cost of health insurance
The Patient Protection and Affordable Care Act is expected to increase companies' cost of health insurance, especially as more employees opt for benefits. A study by the ADP Research Institute uses companies' experiential payroll and benefit data to calculate the realistic cost.
CFO.com
(3/5)
5 steps to building a network from scratch
Start your network by reaching out to one person and building from there, Gauri Sharma writes. There's no need to be squeamish about asking for a favor, as most people enjoy helping colleagues and will appreciate your request. The biggest area where new networkers can improve is in their follow-ups, Sharma writes.
Forbes
(2/28)
Once again, the U.S. government's overspending is front and center on the world stage. What will happen with the sequester?
It appears that 61% of you chose correctly. A small group thought there would be serious spending cuts and no additional taxes. About 30% thought we would continue to tax and spend.
| | |
| --- | --- |
| Nothing, which means automatic cuts will kick in | 61.09% |
| Compromise, with more taxes and more spending | 27.62% |
| Compromise, with serious cuts to spending and no additional taxes | 6.69% |
| I have no idea | 4.60% |
Help SmartBrief cover SXSW Interactive!
SmartBrief will cover the South by Southwest Interactive Festival through Tuesday in Austin, Texas, and we need your help! SXSW has too many must-see events for our staff to cover, so we're turning to readers to help document the best panels as blog contributors. If you're headed to Austin and want to contribute to SmartBrief's blogs on social media, leadership, finance, food and beverage or education, check out our guest-post guidelines and send a note to Jesse Stanchak.
A great way to be significantly more productive is to start anything you're about to do with one question: What does a wildly successful outcome for this meeting, project, conversation -- whatever it might be -- look like?"

-- Mike Williams, president and CEO of David Allen, as quoted by

Inc.com
Please contact one of our specialists for advertising opportunities, editorial inquiries, job placements, or any other questions.