House Republicans weigh changes to Medicare plan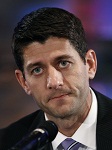 Ryan/Reuters
House GOP leaders are considering raising the age at which people would be protected from changes to the Medicare system from 55 to 56, under a plan floated by Rep. Paul Ryan, the Budget Committee chairman. The proposal angered many centrist Republicans, who had made election-season commitments to their constituents tied to the notion that those aged 55 and older would be guaranteed continued access to traditional Medicare. A person becomes eligible for Medicare at age 65.
Bloomberg Businessweek
(3/5),
The Hill
(3/5),
Politico (Washington, D.C.)
(3/4)
Politicians have a conservative bias, report claims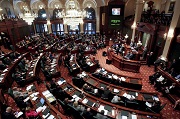 Reuters
Politicians routinely overestimate their constituents' conservatism by as much as 20 percentage points, according to a University of Michigan study. That creates "an effective supermajority requirement" for passing liberal legislation, with lawmakers unlikely to support bills unless it has the support of 60% or so of their constituents, writes Garance Franke-Ruta.
The Atlantic online
(3/4)
What the "sequester" cuts really mean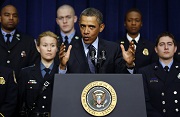 Obama/Reuters
President Barack Obama -- OK, "Saturday Night Live" impersonator Jay Pharoah -- explains the effects of the "sequester" spending cuts with a little help from the Village People. "Young men, just 'cause your funding is down, there's no need to be unhappy," he intones.

NBC.com
(3/4)
Please contact one of our specialists for advertising opportunities, editorial inquiries, job placements, or any other questions.