House Republicans reject tax increases as sequester nears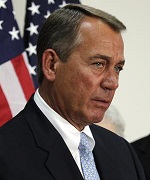 Boehner/Reuters
Republican leaders in the House of Representatives have dismissed President Barack Obama's call to avert $85 billion of spending cuts set to take effect March 1. The president's plan includes a mix of tax increases and reduced spending. The House is working on a legislative agenda that assumes the deep spending cuts will take effect and will remain unchanged through the end of 2013.
The New York Times (tiered subscription model)
(2/20)
Share:





Funding values Pinterest at $2.5B
Social networking company Pinterest says it has obtained about $200 million, in a deal that values the San Francisco startup at $2.5 billion. Valiant Capital Management led the fundraising, with earlier investors joining in.
Los Angeles Times (tiered subscription model)/Tech Now blog
(2/20)
Share:





Get It Right: Pricing Strategies That Work
Many entrepreneurs hope for success by offering low prices, while in fact most world-class entrepreneurs succeed by setting higher prices. If you're not exactly sure which pricing strategy will work for your business, these 6 steps can help you set your company's prices for success. Read the exclusive article now.
The crucial link between a CFO and sales
CFOs need to build a strong link with the sales operation to create a corporate-spending plan that is neither too optimistic nor too conservative. CFOs must realize they will have make sales forecasting part of their job and not rely solely on sales leaders for predictions.
CFO.com
(2/20)
Share:





Business groups push for even more clarity on FCPA
The U.S. Chamber Institute for Legal Reform, along with 30 state, national and international business and advocacy groups, is calling for the Justice Department and the Securities and Exchange Commission to further clarify the Foreign Corrupt Practices Act. The government recently released guidance, but the groups say there are areas of uncertainty, including voluntary disclosure, definitions of "foreign official" and "instrumentality," and declination decisions, in which prosecution or enforcement is not pursued.
Compliance Week/Enforcement Action blog
(2/20)
Share:





Building Workplace Trust 2015
Interaction Associates' 6th annual research study tracking trust on the job, Building Workplace Trust, is out, and more than half of employees surveyed give their organizations low marks for trust and leadership. Yet this year's findings again point to how high trust leads to better outcomes and financial results — and even boosts innovation.
Attributes of an automatic leader
There are certain actions that leaders make automatically, almost instinctively, Glenn Llopis writes. A good leader makes others feel safe to speak up, challenges people to speak and properly allocates talent. Llopis lists 15 skills that come automatically to a great leader.
Forbes
(2/18)
Share:





How to sell your ideas like a "Shark Tank" contestant
The reality show "Shark Tank," in which would-be entrepreneurs pitch ideas to judges, should be required viewing for business leaders, Stephanie Scotti writes. Contestants use attention-grabbing techniques, make their presentations personal, get judges directly involved and end with strong calls to action. "Consider applying these lessons to boost your confidence, inspire your listeners and exponentially increase your chances for a high-impact presentation," Scotti writes.
SmartBrief/SmartBlog on Leadership
(2/19)
Share:





Transformational Journeys: Modern Business Planning
Harvard Business Review explores why CFO's and their finance organizations must adapt to the changing landscape of their markets and how big data, organizational collaboration, and new cloud-based planning and analysis technologies are driving successful change.
Click here to access the report.
Solar panels delivered via spray can?
A tipping point in the solar industry could be at hand, thanks to development of a sprayable liquid that works as a solar panel but is cheaper and easier to install. The U.K.'s University of Sheffield is at work on this project, which substitutes silicon, typically used in solar cells, with cheaper and more ubiquitous plastic. Researchers say spray-on cells work as well as a silicon panel and are not only cheaper to produce but also require less energy in the process.
FastCoExist
(2/20)
Share:





How SDN Makes Campus Networks Better
When should agencies adopt SDN? IDC reports that SDN provides immediate benefits for government campus networks, including modernized IT infrastructures that are more agile, cost-effective, and collaborative.
Read this new IDC paper to learn more.
The most successful leaders are instinctual decision makers."

-- Glenn Llopis, writing for

Forbes

Share:

         
Please contact one of our specialists for advertising opportunities, editorial inquiries, job placements, or any other questions.