Obama seeks to break "sequestration" impasse with $1.8 trillion deal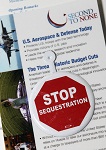 Reuters
President Barack Obama has proposed a $1.8 trillion package of spending cuts and tax increases in a bid to avert the March 1 "sequestration" spending cuts, and he reached out to GOP leaders Thursday to pitch his plan. Republicans pushed back, accusing Obama of seeking more taxes rather than a workable compromise deal. "The president was offered a truly balanced approach ... and he turned it down. His appetite for higher taxes knows no bounds," said Brendan Buck, a spokesman for Rep. John Boehner.
RealClearPolitics/The Associated Press
(2/22),
The Washington Post
(2/22),
The New York Times (tiered subscription model)/The Caucus blog
(2/22)
Share:





What the spending cuts may mean for your business
The Washington Post

(2/22)




Share:

         
"Sequestration" FAQs
CBS MoneyWatch

(2/22)




Share:

         
This week's poll results: Readers love the Gipper
Ronald Reagan is the favorite president among the respondents to this week's poll. The Great Communicator outdistanced runner-up Abraham Lincoln by a nearly 2-to-1 margin. Complete results are below. Among the alternative answers submitted by readers: Richard Nixon for his foreign policy accomplishments, Lyndon Johnson for civil rights and social programs, James K. Polk for westward expansion and Barack Obama for health care reform. Next week: The sequestration cometh
| | |
| --- | --- |
| Ronald Reagan | 35.66% |
| Abraham Lincoln | 19.01% |
| George Washington | 8.30% |
| Bill Clinton | 7.66% |
| Barack Obama | 5.13% |
| Thomas Jefferson | 5.05% |
| Franklin Delano Roosevelt | 5.01% |
| John F. Kennedy | 4.17% |
| Theodore Roosevelt | 3.93% |
| George W. Bush | 2.29% |
| None of the above/other | 2.01% |
| Dwight D. Eisenhower | 1.76% |
| Woodrow Wilson | 0.00% |
| Jimmy Carter | 0.00% |
| George H.W. Bush | 0.00% |
| James Madison | 0.00% |
| Harry S. Truman | 0.00% |
Hagel has the votes, looks set to be confirmed as Defense chief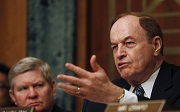 Shelby/Reuters
Sen. Richard Shelby, R-Ala., has announced his support for Chuck Hagel as secretary of Defense, giving Hagel enough votes to secure his confirmation. Some 15 of Hagel's Senate opponents countered with a letter calling for their colleagues to block the appointment and insist on a nominee "whose candidacy is neither controversial nor divisive."
The Wall Street Journal
(2/21),
FoxNews.com/The Associated Press
(2/21),
United Press International
(2/21)
Share:





Biden: Gun control naysayers know the "moral price" of inaction
CBS News

(2/21)




Share:

         
Unions and businesses are at odds over immigration reforms
The Wall Street Journal

(2/21)




Share:

         
White House shouldn't dilute trade deal to please Japan, business groups say
The Hill/Global Affairs blog

(2/22)




Share:

         
Why large cities tend to support Democratic candidates
Reuters
Urban areas tend to skew heavily Democratic in elections, and a new analysis reveals why. The Democratic urban vote is driven chiefly by educated creative-industry and knowledge workers; in fact, Republicans usually do well in cities with primarily industrial or blue-collar economies. "America is divided between cities of knowledge and skill and the rest," writes Richard Florida.
The Atlantic Cities
(2/19)
Share:





Please contact one of our specialists for advertising opportunities, editorial inquiries, job placements, or any other questions.