Retail sales post biggest gain in 5 months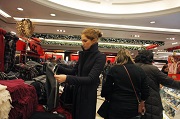 Reuters
Largely unaffected by higher payroll taxes and gasoline prices, retail spending increased 1.1% in February, double the growth that most economists had expected. Consumers spent more money at service stations, auto dealers, building-material outlets, general-merchandise stores and nonstore merchants, such as Internet retailers, the Commerce Department says.
Bloomberg
(3/13),
Business Insider
(3/13)
Increase in foreclosure starts signals challenges
Between January and February, residential foreclosure filings in the U.S. increased 10%, to 71,488, according to RealtyTrac. The total was down 25% compared with February 2012. "Foreclosures have been contained as a threat to the housing market, but there's still hot spots in the foreclosure market in different states that need to be stamped out," RealtyTrac Vice President Daren Blomquist said.
Reuters
(3/14)
CFOs should play defense with shareholder suits on exec pay
Shareholder lawsuits regarding executive compensation have increased, with investors saying executives are being awarded stock-based compensation that exceeds an approved amount. Attorneys are advising companies to resist settlement to make such lawsuits go away. "Settling these cases only incentivizes plaintiffs to continue filing such suits," said Ana Damonte, a lawyer with Pillsbury Winthrop Shaw Pittman. "Companies that settle could put targets on their backs. Maybe they'd get sued again next year."
CFO.com
(3/13)
IRS cracks down on employee misclassification
The Internal Revenue Service is surprising entrepreneurs with audits of their payrolls in search of misclassified employees. The crackdown is part of a government effort to look for workers classified as independent contractors in order to avoid withholding payroll and income taxes. Studies show that anywhere from 10% to 60% of small-business employees may be misclassified.
The Wall Street Journal
(3/13)
6 ways to handle an emotional bid for a raise
When an employee approaches a boss with a request for more money because of personal reasons, the manager can handle such a delicate situation with a strategy that includes making the raise about business, instead of emotion, says Matt Wallaert, founder of GetRaised. He suggests asking the employee to outline how his or her work has contributed to the bottom line in the past several months and to provide a competitive wage listing.
Inc. online (free registration)
(3/12)
Do your policies indicate a lack of trust in your employees?
Many companies implement policies that suggest that they don't trust their employees, Liz Ryan writes. For example, they might require their workers to provide proof when they say they are sick or when they have had a death in the family. "If we value talent, we'll start dismantling the lumbering Godzilla of controls and policies that hampers creativity in virtually every organization, and we'll start trusting ourselves to hire people we trust," she writes.
Bloomberg Businessweek/The Management Blog
(3/12)
Why overhearing a cellphone conversation is so distracting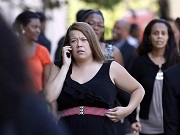 Reuters
It is not your imagination that a one-sided cellphone call is more intriguing and distracting that that old-fashioned, face-to-face conversation you might also overhear. Studies suggest that because we don't know for sure what is being said when we overhear a cellphone conversation, we use additional brain power to fill in the blanks.
Forbes
(3/13)
| | |
| --- | --- |
| | If our leadership behavior is any guide, our employees are not to be trusted -- not for a femtosecond." |
Please contact one of our specialists for advertising opportunities, editorial inquiries, job placements, or any other questions.