5 career lessons from '80s TV characters
Norm Peterson from "Cheers" had a personal brand that was reinforced every time he walked into the bar and patrons shouted his names, writes Anita Bruzzese, who uses video clips to show how '80s TV characters can teach important career lessons.
The Fast Track
(3/11)
Master the art of the follow-up
Your follow-up notes to new contacts should reference specific details about your initial conversation and make clear that you want to continue with the relationship, Matthew Toren writes. It's also a good idea to compliment them and invite them to have coffee with you, he writes.
YoungEntrepreneur.com
(3/6)
Mapping the U.S. housing recovery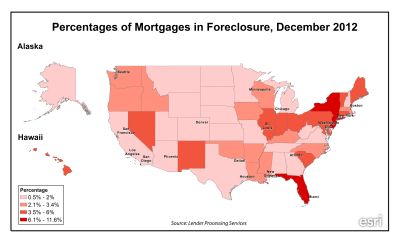 Click on image to enlarge map.
Lost amid all the political gridlock in Washington has been one major positive indicator for the U.S. economy: The housing market is starting to rebound. Real estate foreclosures, mortgage delinquencies and vacancies are all on the decline. This article uses maps to drill down to the state and ZIP code level to analyze the most promising sections of the country for housing-related businesses.
SmartBrief/SmartBlog on Finance
(3/8)
Top Stories from Career Rocketeer
Fitness parties are a growing trend for business, pleasure
U.S. gyms host fitness parties for special occasions, such as business conferences, birthdays or college reunions, with pole-dancing parties among the most popular with younger women. The parties are good marketing tools for gyms and fitness instructors and are part of a trend toward having healthier events at business functions.
Reuters
(3/11)
The healthy debate over daylight saving time
Setting the clock ahead an hour for daylight saving time throws off circadian rhythms and contributes to traffic accidents, workplace injuries and heart attacks, chronobiologists say. Even cows feel the effects of the change when they're milked an hour earlier than usual, Bora Zivkovic writes, joining in the universal jet lag we experience when the clock changes.
ScientificAmerican.com/A Blog Around The Clock
(3/7)
SmartBrief's inside look at #SXSW
SmartBrief is attending the South by Southwest Interactive Festival, with tweeting @SmartBrief and blogging at SmartBlogs. Here's some of our coverage so far.
Please contact one of our specialists for advertising opportunities, editorial inquiries, job placements, or any other questions.