Q-and-A with Brad Hutensky, chairman of ICSC
What challenges and opportunities does the shopping center industry face as it heads into 2013?

Brad M. Hutensky, chairman of the International Council of Shopping Centers and principal of Hutensky Capital Partners, foresees limited new development ahead in the U.S. and Canada, but he expects an increase in "repositioning existing, well-located properties to unlock intrinsic value." In addition, he says, "look for more public-private partnerships as cities and towns seek to attract the jobs and economic spark created by a well-conceived retail project."

When it comes to the capital markets, Hutensky says, "extremely low interest rates will continue to make financing very attractive and keep cap rates low even in the face of more challenging real estate fundamentals. And second, the rush toward quality by buyers and lenders will continue."
SmartBrief/SmartBlog on Leadership
(12/11)
Share:





These are the stories read and shared most by ICSC SmartBrief readers in 2012
How do you think shopping centers performed in 2012 compared with 2011?
| | | |
| --- | --- | --- |
| 54% | | Somewhat better |
| 22% | | About the same |
| 15% | | Much better |
| 8% | | Somewhat worse |
| 3% | | Much worse |
Share:





How do you expect shopping centers to perform in 2013 compared with 2012?
| | | |
| --- | --- | --- |
| 37% | | About the same |
| 35% | | Somewhat better |
| 17% | | Somewhat worse |
| 9% | | Much better |
| 4% | | Much worse |
Share:





What will be the greatest challenge for shopping centers in the next year?
| | | |
| --- | --- | --- |
| 68% | | General economic conditions |
| 18% | | E-commerce competition |
| 8% | | Higher vacancy rates |
| 6% | | Market oversupply |
| 2% | | Other/not sure |
Share: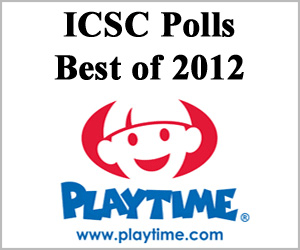 Product announcements appearing in SmartBrief are paid advertisements and do not reflect actual ICSC endorsements. The news reported in Smartbrief does not necessarily reflect the official position of ICSC.
These are the quotes ICSC SmartBrief readers shared most in 2012
The secret of success is to do common things uncommonly well.
The secret of life is honesty and fair dealing. If you can fake that, you've got it made.
I've got a theory that if you give 100% all of the time, somehow things will work out in the end.
The day the child realizes that all adults are imperfect, he becomes an adolescent; the day he forgives them, he becomes an adult; the day he forgives himself, he becomes wise.
Only those who will risk going too far can possibly find out how far one can go.
Cautious, careful people, always casting about to preserve their reputation and social standing, never can bring about a reform.
If people cannot write well, they cannot think well, and if they cannot think well, others will do their thinking for them.
Don't bother just to be better than your contemporaries or predecessors. Try to be better than yourself.
Both the optimists and pessimists contribute to our society. The optimist invents the airplane and the pessimist the parachute.
By working faithfully eight hours a day, you may eventually get to be a boss and work 12 hours a day.
Many of our fears are tissue-paper-thin, and a single courageous step would carry us clear through them.
The cure for boredom is curiosity. There is no cure for curiosity.
Act as if what you do makes a difference. It does.