Does sequestration fight give Obama a political edge?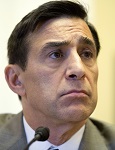 Issa/Reuters
Both sides are putting a brave face on the "sequester" spending cuts due to take effect Friday, but some Republicans say they're likely to come off markedly worse than Democrats if the cuts go ahead. President Barack Obama will have significant leeway to determine how the spending cuts are implemented, a power that GOP lawmakers expect the president to use for political gain. "The president having ability to reprogram, which means the ability to punish his enemies and reward his friends, is beyond any reasonable constitutional justification," says Rep. Darrell Issa, R-Calif.
Politico (Washington, D.C.)
(2/27),
Bloomberg Businessweek
(2/28)
Other News
Interactive map highlights America's electoral problems
Reuters
With the Supreme Court poised to demand an overhaul of the 1965 Voting Rights Act, the Atlantic offers up an interactive map plotting voter wait times, minority turnout and other key metrics on a state-by-state basis. "The results show a picture of a nation with election efficiency that varies from state-to-state and election-to-election -- in 2012, not 1964," writes Philip Bump.
The Atlantic Wire
(2/27)
Book demonstrates federal government's use of GIS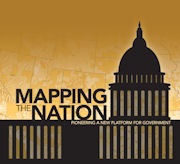 ESRI
The 133 maps in a new Esri book show how federal agencies use geographic information systems to share information and involve the public on issues including national security, health, the environment, emergency management and transportation.
SmartBrief/SmartBlog on Finance
(2/27)
"Sasha and Malia" get their own YouTube show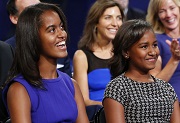 Malia and Sasha Obama/Reuters
What if Sasha and Malia Obama had their own YouTube show? In this spoof, Franchesca Ramsey and Abbi Crutchfield imagine the first children prank-calling Hillary Clinton, using drones to spy on cute boys and giving their Secret Service detail a makeover.
YouTube/Barely Political
(2/26)
Please contact one of our specialists for advertising opportunities, editorial inquiries, job placements, or any other questions.