Economists predict U.S. growth will pick up by summer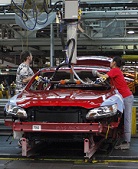 Reuters
The U.S. economy is poised to accelerate beginning at midyear, generating enough growth to produce a self-sustaining recovery, according to economists surveyed by USA Today. Meanwhile, consensus is growing among economists that a minor fourth-quarter shrinkage reported will be revised to reveal growth, albeit at a sluggish pace.
USA Today
(2/10),
Bloomberg Businessweek
(2/8)
Share:






China passes U.S. to become world's largest trader
Chinese and U.S. statistics agree that China traded more goods than the U.S. did last year. The increase occurred despite China's economy being half of the size of the U.S. economy. "It is remarkable that an economy that is only a fraction of the size of the U.S. economy has a larger trading volume," said Nicholas Lardy of the Peterson Institute for International Economics.
Bloomberg
(2/10)
Share:






Financial-reporting data quality, visibility still problematic
Companies still struggle with data quality and analysis within their financial-reporting system, despite significant investment, according to a study by Oracle and Accenture. Leading companies are addressing this issue by taking a holistic approach to data quality and visibility, says Scott Brennan, a partner in Accenture's finance practice. "The laggards are doing piecemeal investments in the close and consolidations process without really addressing the whole of the process," Brennan said.
Business Finance
(2/7)
Share:






XBRL error rate can be high at beginning, association warns
It takes about 2½ years for companies to get data quality straight as they adopt eXtensible Business Reporting Language, XBRL US President Campbell Pryde says. Smaller companies have begun using electronic data tags this year, and based on their larger counterparts' experience, they should expect a temporary increase in error rate, Pryde says.
The Wall Street Journal/CFO Journal
(2/8)
Share:






How to lead when you're not in charge
You don't have to be in charge to be a leader, writes Nan Russell, author of "The Titleless Leader: How to Get Things Done When You're Not in Charge." Create a "natural following" by paying attention to fundamentals such as being trustworthy and helping others. "Like 17th-century musketeers who understood if one was in trouble, they all were in trouble, those who get great results operate with unspoken commitments that go beyond self-interest," Russell writes.
Forbes
(2/8)
Share:






Have too much to do? Take a break, and you'll get it done
Short on time during working hours? One way to address that is to take strategically timed breaks, writes Tony Schwartz, CEO of The Energy Project and author of "Be Excellent at Anything." Research shows that breaks such as daytime workouts, short afternoon naps and more frequent vacations boost productivity and job performance. This seems counterintuitive in most workplaces, he admits. "In most workplaces, rewards still accrue to those who push the hardest and most continuously over time," Schwartz writes. "But that doesn't mean they're the most productive."
The New York Times (tiered subscription model)
(2/9)
Share:






Mike Riccio
has been promoted to CFO of Panasonic North America. He had been controller and vice president.
TWICE
(2/8)
Share:






Mark Vendetti
has been selected as CFO of Francesca's Holdings. He was vice president of finance at Abercrombie & Fitch.
American City Business Journals/Houston
(2/7)
Share:






Startup markets bullet-resistant gear
Startup American Armor Attire's specialty is bullet-resistant clothing and backpacks. The material used can stop a .44 Magnum slug.
The Washington Post/The State of NoVa blog
(2/11)
Share:






If you can help others see what you need from them, you'll be more likely to get it."

-- Nan Russell, author of "The Titleless Leader: How to Get Things Done When You're Not in Charge," writing for

Forbes

Share:

         
Please contact one of our specialists for advertising opportunities, editorial inquiries, job placements, or any other questions.