Mapping the U.S. housing recovery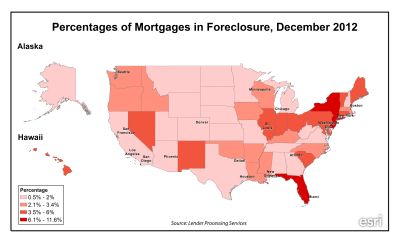 Click on image to enlarge map.
Lost amid all the political gridlock in Washington has been one major positive indicator for the U.S. economy: The housing market is starting to rebound. Real estate foreclosures, mortgage delinquencies and vacancies are all on the decline. This article uses maps to drill down to the state and ZIP code level to analyze the most promising sections of the country for housing-related businesses.
SmartBrief/SmartBlog on Finance
(3/8)
Sloped Cover Design Meets International Building Code Requirements

Bilco's Lumivent® combines the security and protection of an automatic fire vent with the added benefits of a skylight—saving lives and reducing energy costs. The product's sloped cover design meets International Building Code Requirements (2012 IBC 2610.3). Visit www.bilco.com for more information.
Walgreens to build first net-zero store in Ill.
Walgreens plans to build its first net-zero store in Evanston, Ill., and it will feature more than 800 solar panels on its roof, LED lighting and two wind turbines. The facility will harness geothermal energy, and its heating, cooling and refrigeration equipment will use carbon dioxide refrigerants. "We are investing in developing a net-zero store so we can learn the best way to bring these features to our other stores," said Thomas Connolly, Walgreens vice president of facilities development.
Forbes
(3/10)
The power of treating people with respect
Leaders who focus more on "why people can't be trusted" than communicating openly risk turning off team members who can be trusted and care about doing a good job, Karin Hurt writes. "In fact, the more you treat others with deep respect, the more likely the team will work to reject any member acting inappropriately," she writes.
SmartBrief/SmartBlog on Leadership
(3/8)
How successful executives manage their time
The best executives know how to organize their time into large chunks so they can make progress on big projects, Eric Barker writes, citing a book by management expert Pete Drucker. "If you're just doing what comes in, you're on the treadmill, not making a difference," Barker writes.
Barking Up The Wrong Tree blog
(3/7)
Support NRCA through social media
Facebook members can obtain timely NRCA information and show support for NRCA by visiting NRCA's Facebook page and clicking "Like." On NRCA's Facebook page, you can receive NRCA updates, take advantage of NRCA's exclusive promotions and network with other roofing professionals. NRCA members also can receive roofing industry information by following NRCA on Twitter; connecting with NRCA on LinkedIn; or watching videos on NRCA's YouTube channel. View NRCA's Facebook page. Follow NRCA on Twitter. Connect with NRCA on LinkedIn. Check out NRCA's YouTube channel.
Green roof publication is available
Written by Kelly Luckett, a LEED-Accredited Professional and industry expert in green roof system design and installation, Green Roof Construction and Maintenance provides comprehensive information to help you skillfully design, construct and maintain green roof systems. Participants in NRCA University's Vegetative Roof Systems for Roofing Contractors: Your Rewards, Responsibilities and Risks will receive 10% off the member price when they purchase this publication. The member price for the publication is $60, and the retail price is $120. Learn more, or purchase it.
Your SmartBrief has a new look
Noticed a change? NRCA SmartBrief has the same valuable content but with a reworked design to make reading and sharing stories easier, especially on mobile devices. Have feedback on the change? Send it our way!
Please contact one of our specialists for advertising opportunities, editorial inquiries, job placements, or any other questions.