Why leaders need to keep learning
Leaders who are unable to learn new things are doomed, writes Dan Rockwell. They can keep learning by encouraging other people to ask tough questions and being willing to adapt. "You haven't learned till you change, regardless of what you know," Rockwell writes.
Leadership Freak blog
(2/10)
Share:






Review your successes to set the stage for future victories
You can prepare for future success by reviewing the big deals that your company has won, writes Tony Albachiara. Figure out how your company differentiated itself from the competition during the customer's purchasing process. "Consistently winning the big deal means being aligned with how your customers buy," he writes.
Sales Benchmark Index/Sales & Marketing Effectiveness Blog
(2/7)
Share:






Using "gamification" to build motivation
You can keep your sales team motivated by using a concept called "gamification," which may involve offering virtual rewards as incentives for your team. This is especially true if your team is full of young employees, who "are used to gaming-style achievements and having their accomplishments made public for everyone to admire," writes Molly Lindsay of ConnectWise.
The VAR Guy
(2/8)
Share:






U.S. jobless claims tick down; consumer confidence improves
The slow hiring pattern in the U.S. continued last week as reflected in a small decline in the number of Americans filing initial claims for jobless benefits. Consumer confidence, however, picked up during the week for the first uptick since higher payroll taxes came into effect at the beginning of the year, according to the Bloomberg Consumer Comfort Index.
CNNMoney
(2/7),
Bloomberg
(2/7)
Share:






Economists predict U.S. growth will pick up by summer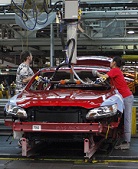 Reuters
The U.S. economy is poised to accelerate beginning at midyear, generating enough growth to produce a self-sustaining recovery, according to economists surveyed by USA Today. Meanwhile, consensus is growing among economists that a minor fourth-quarter shrinkage reported will be revised to reveal growth, albeit at a sluggish pace.
USA Today
(2/10),
Bloomberg Businessweek
(2/8)
Share:






Strategies from Sales & Marketing Management
3 effective ways to respond to prospects' objections
Salespeople should be receptive to objections by prospects and treat them as a natural element of the sales conversation. By understanding why such objections are valuable, sales team members can better educate prospects about a product, increase trust and gain more influence over buying decisions.
Sales & Marketing Management
(2/11)
Share:






Business travelers suffer when good technology goes bad
Flight-grounding computer glitches or power outages are just two technology pitfalls that business travelers potentially face each time they fly. "We've lost untold hours of productivity, missed flights and had our schedules mangled," Joe Brancatelli writes.
American City Business Journals/Chicago
(2/6)
Share:






Verizon rates best and worst apps on their technical specs
Verizon Wireless has begun offering subscribers reviews of mobile applications based on its engineers' assessment of their technical specs: how much the app will drain the battery as well as the megabytes of a data plan. The carrier has compiled a list of 20 Android or iOS apps that it says provide a "best in class" experience for wireless device users. Engineers also rated Google Play's best-selling 25 free and paid apps on their security, battery life and data consumption. A third list rates the 13 worst-performing apps.
GigaOm
(2/8)
Share:






The year in photographs
The Sony World Photography Awards will announce its 2013 winners during the next two months, but the shortlisted images have been made public. The photos include portraits of Botswanan heavy metal enthusiasts, amazing wildlife shots, and some of the most startling news photography of the year.
The Atlantic online
(2/6)
Share:






It's easy to become complacent after you win. In order to repeat you need to maintain the edge over competitors."

-- Tony Albachiara, writing at the

Sales & Marketing Effectiveness Blog

Share:

         
Please contact one of our specialists for advertising opportunities, editorial inquiries, job placements, or any other questions.