IACPM Chairman Derek Saunders examines the credit landscape for 2013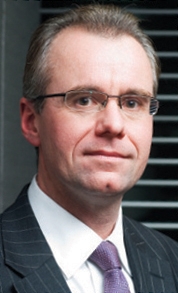 IACPM Chairman Derek Saunders
With an eye on what lies ahead for the industry in 2013, SmartBrief conducted an e-mail interview with Derek Saunders, chairman of the International Association of Credit Portfolio Managers. Mr. Saunders is the global head of portfolio management at HSBC Holdings, and he shared his insight.

What are some of the trends you see developing in international credit markets in the next year? How do you see credit-portfolio managers responding to these changes?

Credit Portfolio Management (CPM) remains extremely well positioned to respond to a very challenging environment and the trend for the financial services sector continues to be one of increased costs as new regulatory frameworks are progressively introduced. What has changed is a general and wider recognition that the Banking sector's ability to lend -- and indeed, banks are actually keen to do this -- helps in part to drive the health of the underlying economy in which they operate. On the positioning of CPM, we find ourselves with something of a dilemma, on the one hand CPM functions are well placed to provide senior management informed views and analysis around strategic options for repositioning of the wider business franchise -- the whole industry is going through change -- and on the other, challenged Return on Equity targets and focus on cost in an environment of lower recycling has resulted in increased scrutiny for many CPM functions. My views here have remained consistent, CPM functions are best positioned as business enablers with a broad scope. The wider the scope the more capable we are of adding value at different points of the cycle. Nothing new here as CPM has a strong track record of being pro-active and responding to change. One thing is clear in the current environment and that is CPM has an increasingly crucial job to do.

Read the rest of the interview.


Share:





These are the stories read and shared most by IACPM readers for each month in 2012
October: IACPM survey uncovers conflicting views on credit default risk
A survey finds apparently divergent views on credit risk, with widespread and rising expectations of defaults around the world but an improving outlook for credit spreads, as revealed in the latest IACPM Credit Outlook Survey. "We're dealing with almost two realities here. On the one hand, survey respondents are clearly worried about rising risk but, on the other hand, they don't seem to think that spreads will rise in tandem with the risks," commented IACPM Executive Director Som-lok Leung. Read more.
ForexLive
(10/25),
Leveraged Finance News
(10/24)
September: Basel rules need to be reconsidered, BoE official says
Andrew Haldane, executive director for financial stability at the Bank of England, said at an annual gathering of central bankers in Jackson Hole, Wyo., that regulation of the financial system might be too complicated. "Modern finance is complex, perhaps too complex ... As you do not fight fire with fire, you do not fight complexity with complexity," Haldane said. "Because complexity generates uncertainty, not risk, it requires a regulatory response grounded in simplicity. Less may be more."
Financial Times (tiered subscription model)
(8/31),
Reuters
(8/31),
The Telegraph (London) (tiered subscription model)
(8/31)
August: Some European banks buy back their debt at a discount
Societe Generale, Commerzbank and other European banks are capitalising on a drop in the value of their longer-term debt by buying back bonds from investors. The financial institutions book the difference as an accounting gain. However, analysts have voiced concerns about the move, saying banks are destroying low-cost, long-term funding options.
The Wall Street Journal
(8/12)
May: JPMorgan deals reportedly backfired, causing losses to mount
JPMorgan Chase's $2 billion loss had its roots in efforts to shield the bank from Europe's economic meltdown. However, instead of shrinking risk exposure, the complicated deals backfired, and losses mounted -- as much as $200 million a day in late April and early May, sources said. U.S. and U.K. regulators are investigating what went wrong and whether the bank should have come forward with the bad news sooner. Meanwhile, JPMorgan CEO Jamie Dimon said executives were "completely wrong" in public statements last month regarding the derivatives trades.
The Wall Street Journal
(5/13),
Reuters
(5/13),

MSNBC
(5/13)
April: Credit Outlook Survey reveals global uncertainty
While the forecast for European corporate bonds remains uncertain, North American bonds are expected to see continued improvement, according to the latest quarterly IACPM Credit Outlook Survey. "Global economic growth is poor to anemic and our survey respondents aren't very confident help is around the corner," said Som-lok Leung, Executive Director of the International Association of Credit Portfolio Managers. "Central banks aren't eager to provide more economic stimulus so market participants are adjusting to life without it." Read the IACPM news release.

Reuters
(4/18)
February: Basel III consistency concerns banks' chief risk officers
Risk magazine recently published a report showing that the consistency of Basel III rules for the financial services sector is a concern of chief risk officers at the world's biggest banks. CROs are worried that the rules won't be applied evenly. "There's an increasing demand from analysts and investors to understand what we would look like under Basel III," one chief risk officer said. "So it's not much use us saying, 'Look, it's not going to be implemented for a few years, don't worry about it.' We're pretty much under pressure to publish how we look on a Basel III basis."
Risk.net (subscription required)
(2/6)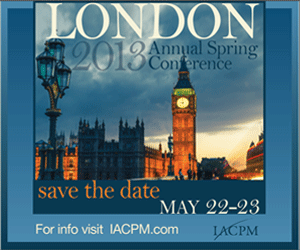 The IACPM's 2012 Year-End Recap
We are pleased to share just a few of our accomplishments and initiatives with you:
Regulatory and Accounting Issues: We have had success with several of the expanding range of important issues we engaged in on Regulation and Accounting. View the report we recently sent our members.
We completed, in conjunction with KPMG, an important benchmarking survey, Stepping up to the Liquidity Challenge: The Changing Role of Credit Portfolio Management. Read the white paper.
Risk Rating Systems, a survey recently completed assessed the structure and granularity of risk ratings. Members of the IACPM can access survey results here.
Two conferences, in Madrid and in New York, drew members and other participants from over 100 of the world's most important financial institutions.
We expanded our Regional Meeting offerings, and were very pleased to conduct our first regional meeting of our Asian and Asian-based members in Singapore.
We conducted our first sponsored Webinar, Measuring Loan Performance-Economic Capital vs Regulatory Capital, with a sell-out registration within the first days of posting the webinar.
Spring and Fall Conferences 2013
Annual Spring Conference


London, UK, May 22-23. This year's conference will take place at the InterContinental London Park Lane Hotel.
Hong Kong


In conjunction with BNP Paribas, the IACPM is planning a regional meeting of members on Friday, January 25.
San Francisco


Union Bank, Bank of America and the IACPM are hosting a full day IACPM Roundtable, CPM in the Middle Market, on April 19.
Note:


Regional Meetings are held periodically in New York and London. Members also meet at regular intervals throughout the year in Canada, France, Germany, Singapore and Japan.
Events with IACPM Participation
United States




The IACPM, in collaboration with RMA's NY Chapter, will present an early evening discussion on "Leveraged Finance—State of the Market and Portfolio Management" on April 17 in New York City.
Singapore


In conjunction with the National University of Singapore's Risk Management Institute, the IACPM will present its Educational Workshop on July 10 and chair a stream at the annual Risk Management Institute Policy Forum on July 11.