Whole Foods vows GMO labeling by 2018
Whole Foods Market is the first grocery chain to set a deadline for labeling food with genetically modified organisms, vowing the move by 2018 at U.S. and Canadian stores. "We are stepping up our support of certified organic agriculture, where GMOs are not allowed, and we are working together with our supplier partners to grow our non-GMO supply chain to ensure we can continue to provide these choices in the future," co-CEO Walter Robb said.
The New York Times (tiered subscription model)
(3/8),
The Shelby Report online
(3/8)
10 ways to inspire creativity in your staff.
Fostering creative business practices isn't as hard as it seems and can lead to smart solutions. Use these ten techniques to help inspire and encourage creativity in your staff. Read the article and learn 10 ways to get the creative juices flowing.
Washington, D.C., hotels go green to entice travelers
A Starwood Element hotel is planned for Washington, D.C.'s, Southwest waterfront, and it will feature eco-friendly appliances in a LEED-certified building. Other hotels in the district are deploying sustainability measures as a way to save money and go green in an effort to attract clientele. Kimpton offers its EarthCare Program, which uses energy-efficient appliances and eco-friendly cleaning products.
The Washington Post/Capital Business
(3/10)
The IDC Market Spotlight on Network Automation and Agility
The arrival of virtualization, cloud computing, and mobility has strained data center networks—and IT staff—like never before. This Market Spotlight explains how data center network fabrics provide a foundation for automated provisioning, configuration, and management of network-based services in a new era of IT agility. Download now.
Are HR managers getting on board with CSR?
Human resources departments need to take a lead role in CSR efforts if they don't want to be left behind, writes Elaine Cohen. "The answer is partnership: CSR Managers must look to the HR function to be equal partners in the advancement of shared CSR strategy and goals, and must be proactive in inviting that partnership. Equally, HR Managers must do the same," she writes.
CSRwire Talkback blog
(3/8)
Sustainable energy needed for developing areas

The development of sustainable energy sources for the poverty-stricken areas of the world will do much to improve the lives of 90% of the world, writes Andrew C. Revkin. "[T]he 'energy quest' that's needed to smooth the human journey in this century has two faces -- one figuring out how the haves can use energy more wisely, the other figuring out how to get the benefits that come with modern energy to the billions without sustainable options right now," he argues. He cites several companies who are moving toward this goal.
The New York Times (tiered subscription model)/Dot Earth blog
(3/8)
Engage. Innovate. Discuss.
6 lessons in the aftermath of Yahoo's telecommuting memo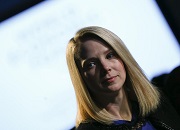 Mayer/Reuters
Yahoo CEO Marissa Mayer ended telecommuting as one of a series of changes designed to improve office culture and spur innovation, Dana Theus writes. Mayer was right to take a stand and have managers communicate the news privately to affected workers first, Theus writes, but the memo was not culture-driven or sensitive to affected employees, she writes.
SmartBrief/SmartBlog on Leadership
(3/11)
SmartBrief's inside look at #SXSW
SmartBrief is attending the South by Southwest Interactive Festival, with tweeting @SmartBrief and blogging at SmartBlogs. Here's some of our coverage so far.

| | |
| --- | --- |
| | We've seen how our customers have responded to the products we do have labeled. Some of our manufacturers say they've seen a 15% increase in sales of products they have labeled." |
Please contact one of our specialists for advertising opportunities, editorial inquiries, job placements, or any other questions.