Transparency is better than cool, says Qualtrics CEO
Transparency isn't just a cool-sounding bit of corporate jargon -- it's a way to ensure that all your workers are pulling in the same direction, Qualtrics founder Ryan Smith says. "We want to be transparent because we want to encourage our people to have all the information to keep them focused on what really matters -- our objectives and how they're going to contribute," Smith says.
The New York Times (tiered subscription model)
(3/2)
Is Robert Iger too powerful?
A number of influential Disney investors say that CEO and Chairman Robert Iger is amassing more power and compensation than he should. That could lead to a challenge to his tenure as chairman despite the Magic Kingdom's strong performance on his watch. "The facts are irrefutable," says Disney spokeswoman Zenia Mucha. "Disney's performance during Mr. Iger's tenure has been nothing short of spectacular."
The Wall Street Journal
(2/28)
Why Aetna loves telecommuters
Yahoo may be banning workers from telecommuting, but Aetna has steadily extended the practice. Some 47% of the company's 35,000 employees work from home, with 14,500 not allocated space at Aetna's offices. That's allowed the company to cut 2.7 million square feet of office space, saving it about $78 million a year.
Reuters
(3/1)
Innovation and Creativity
Ideas should face public scrutiny, 72andSunny CEO says
Advertising firm 72andSunny has all ideas and designs go through a review stage, where they're literally pinned to the wall for feedback and criticism from passing workers. "This way, we can maintain the important elements of authorship and personal accountability while also getting the benefit of the extended team's objectivity and ideas," CEO John Boiler writes.
Fast Company online
(3/1)
The IPO market is holding back American innovators

The market for initial public offerings is broken, and that's harming America's innovation economy, writes Mona DeFrawi, CEO of Equidity. A focus on short-term, high-frequency trading is skewing companies' valuations, making it harder for new firms to achieve sustainable growth. "Without a core of growing companies ... the economy will simply keep generating more uncertainty and distrust, further limiting good, young companies' ability to hire and grow," DeFrawi argues.
GigaOm
(3/2)
Africa isn't the new Asia -- yet
Investors who paint Africa as the new Asia are premature, The Economist warns. Africa has plenty of potential, but it's still a long way from an Asian-style economic explosion. "Whereas one is the workshop of the world, the other almost exclusively exports what grows in fields or is dug out from below them," the magazine notes.
The Economist (tiered subscription model)
(3/2)
Engage. Innovate. Discuss.
Leaders should serve themselves some humble pie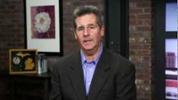 YouTube/John Baldoni
The best leaders tend also to be the most humble, John Baldoni says in this video. Business schools might not teach humility, but bosses who can check their egos at the door are more likely to command respect and loyalty. "Leaders who value humility are the ones other people want to follow," Baldoni writes.
SmartBrief/SmartBlog on Leadership
(3/1)
King Richard was a real sweetheart, researchers say
Scientists have studied the pickled heart of Richard I of England, the legendary 12th-century monarch known as "Lionheart," which was found lying around in a French cathedral. Upon opening the small casket, researchers found the heart's dusty remains mingled with a sweet-smelling blend of mercury and herbs -- likely the result of embalmers' efforts to preserve the King's organ for posterity.
Nature (free content)
(2/28),
The Daily Beast
(3/3),
Reuters
(3/1)
Executive perspectives from Baker Hughes, Diageo Mexico and Merck Customer Care
Gap International's Leveraging Genius Conference took place last week, and SmartBlog on Leadership is hosting Q-and-A blog posts that Gap collected from executives in attendance. Visit SmartBlogs for leadership and team-development insight from the event.
| | |
| --- | --- |
| | When everyone's rowing together toward the same objective, it's extremely powerful." |
Please contact one of our specialists for advertising opportunities, editorial inquiries, job placements, or any other questions.