What does 2013 hold for social media pros?

Lori Randall Stradtman
Brands need to recognize that mass media tactics don't work on social networks, and that everyday people have the power to talk back and make demands of their own, as exemplified by the online protests against the Stop Online Piracy Act this year, author Lori Randall Stradtman says as she looks back on the year in social media marketing. In 2013, brands will need to get serious about the possibilities afforded by combining social media with Big Data and about deploying social media monitoring, Stradtman says.
SmartBrief/SmartBlog on Social Media
(12/10)
Share:





These are the stories read and shared most by SmartBrief on Social Media readers in 2012
| | |
| --- | --- |
| | Have you ever wondered how your corporate social programs stack up next to other companies? Spredfast has released a full view of the state of corporate social programs in the industry's first Social Engagement Index Report that defines the current state of engagement across social brands. Download the report and find out how you compare to your peers. |
What is the top area of social engagement you want to focus on in 2013?
| | | |
| --- | --- | --- |
| 34% | | Expanding our community base |
| 26% | | Showing the impact of what social is achieving in our business |
| 20% | | Cultivating more brand advocates in our online community |
| 20% | | Keeping our existing community active and engaged |
Share:





Are you planning to spend more of your workday on social media in 2013 than you did in 2012?
| | | |
| --- | --- | --- |
| 48% | | Yes |
| 44% | | No |
| 8% | | Not sure |
Share: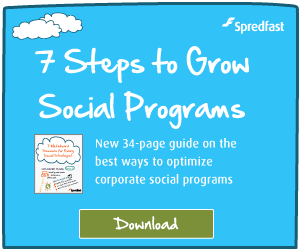 Product announcements appearing in SmartBrief are paid advertisements and do not reflect actual SocialMedia endorsements. The news reported in Smartbrief does not necessarily reflect the official position of SocialMedia.
Free resources for SmartBrief on Social Media readers
If you enjoy SmartBrief on Social Media and want to follow other trends in digital marketing, check out other SmartBrief products on: For more SmartBrief on Social Media insight, get our free guide to social media ROI.

Be sure to connect with SmartBrief on Facebook | Twitter | LinkedIn | Pinterest | SmartBlogs
Share:





These are the quotes SmartBrief on Social Media readers shared most in 2012
We have allowed social media to become SEO ... a collection [of] pseudo experts all promising a solution without the talent to deliver.
-- Adam Kmiec of Walgreen, writing in a comment on a blog post, as quoted by
Advertising Age
Share:





In order to be truly effective and original, you can't repurpose content designed for other media for the Web.
-- James DeJulio, president of Tongal, as quoted by
MediaPost Communications' Marketing Daily
Share:





Where there's passion, there's going to be stupid passion.
-- Kathleen Hessert, social media consultant, as quoted by
The Wall Street Journal
Share:





If you don't want something to happen to you, then don't do it to a customer.
-- Raghu Raghavan, CEO of Act-On, as quoted by
1to1Media.com
Share:





[S]ocial, like all media, is a tactic. What concerns me is that too many marketers have elevated tactics -- especially those of social media -- to the level of strategy.
-- Al Ries, writing in
Advertising Age
Share:





Having a lot of 'likes' will not pay your rent or your mortgage. The bank doesn't accept 'likes' as collateral.
-- Heather Whaling, president of Geben Communications, as quoted by
SmartBrief's SmartBlog on Social Media
Share:





Anyone can start a community, but it takes real talent and commitment to get people to show up and keep coming back.
-- Andy Sernovitz, writing in
SmartBrief's SmartBlog on Social Media
Share:





Untrained professionals can create significant brand damage.
-- Jeremiah Owyang of Altimeter Group, as quoted by
Ragan.com
Share:





Facebook denies us a pleasure whose profundity we had underestimated: the chance to forget about ourselves for a while, the chance to disconnect.
-- Stephen Marche, writing in
The Atlantic
Share:





Social media is like teenage sex -- everyone wants to do it. When they do they're a bit disappointed, but they practice and it gets much better.
-- Josh Graff of LinkedIn, as quoted by
CBROnline.com
Share: